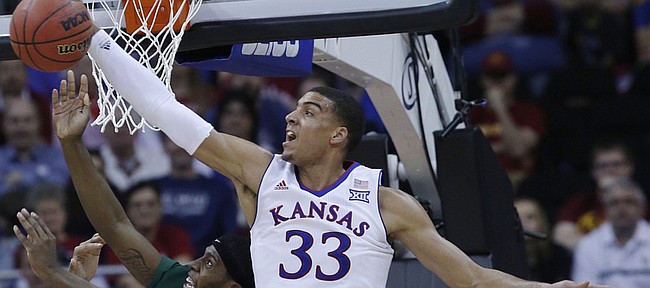 Kansas City, Mo. — When a young basketball player starts to talk like his coach, applies his standards, sees every blemish in the mirror, that usually is a sign of better days on the horizon.
It means a team knows what it is and isn't and knows what it will take to get the job done.
Kansas University's basketball team, regular-season champion in the Big 12 and playing in Saturday's conference tournament title game, didn't reach those goals with offensive artistry, overwhelming explosiveness or an abundance of basketball skill.
Photo Gallery
Kansas v. Baylor in Big 12 Touranment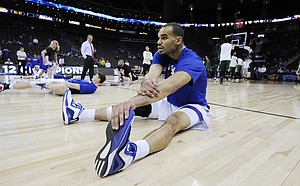 Images from the Jayhawk's game against Baylor in the semi-finals of the Big 12 Tournament in K.C. MO., Friday.
Podcast episode
Kansas basketball coach Bill Self and Jayhawks Perry Ellis and Wayne Selden Jr. discuss KU's 62-52 win over Baylor in the Big 12 Tournament semifinals. Kansas won with defense, a big night from Selden and the return of Ellis.
KANSAS 62, BAYLOR 52
The Jayhawks didn't play beauty-pageant basketball in defeating Baylor, 62-52, Friday night at Sprint Center. They seldom do. They won by running the Bears off the three-point line, where Baylor never became comfortable and shot .182, and by playing intense man-to-man defense that resulted in 17 turnovers for Baylor, which in the first half made 5 of 25 field goals and 1 of 10 three-point shots.
Yet, after the game, when Kansas sophomore point guard Frank Mason III was asked to give the team a grade for the defense it played, he didn't do any bragging.
"Defensive grade?" he repeated the question. "Maybe a B-minus. We were awful in transition defense and that starts when you forget to protect the basket well. People made a couple of mistakes that way in transition."
Nice. He led with what needs to improve after his team limited the Big 12's No. 4 seed to 52 points.
"Our first-shot defense was pretty good," Mason said, then shifted the car back into reverse. "We let them get too many offensive rebounds (14)."
Mason gets it and so do his teammates. They know they'll have good shooting days and bad, smooth offensive performances and choppy ones. The defense can't follow the same unpredictable path or KU is at great risk of another one-city NCAA tournament.
"Defense has to be there every game," Mason said. "If you can't get shots to fall, we have to be able to play defense and make the other team play bad to have a chance."
If KU can deliver defensively it even can survive those days when one or all three of its toughest scorers — Perry Ellis, Mason and Kelly Oubre Jr. — have an off day, especially if a big-scoring game comes from an unexpected source. In this one, Wayne Selden Jr. was that source.
Selden took a puzzling .338 shooting percentage from inside the three-point circle into the Big 12 Tournament. Two games into it, Selden has made 10 of 12 two-pointers, including 7 of 7 Friday.
Consistently driving hard to the hoop and drawing fouls, Selden totaled 20 points, eight rebounds and three assists. 
"It's good to see," Oubre said of Selden's big night. "When he's shining, he gives us all a boost because he has such a great attitude, even when he's playing bad. Tonight it was a different Wayne out there. It was the original Wayne."
And it was old-school, rugged Kansas man-to-man defense, a winning combination.
More news and notes from Kansas vs. Baylor at the Big 12 Tournament
---
More like this story on KUsports.com