Kansas City, Mo. — Sophomore reserve Brannen Greene hit his first three-point attempt against Baylor in Kansas University's 62-52 win in the Big 12 Tournament semifinals Friday.
That snapped an 0-for-14 skid from three over four games and 1-for-19 over five games. He finished 1-for-3 from three and scored three points with two steals in 17 minutes.
"It was big because I feel once I knock one down the rest will follow," Greene said. "It's definitely a confidence boost for me. Coach has been talking about it. We've been joking around about, 'when are we going to hit our next shot?' when the media is not around. It felt good to knock one down. It's felt like there's been a lid on it in the past."
Photo Gallery
Kansas v. Baylor in Big 12 Touranment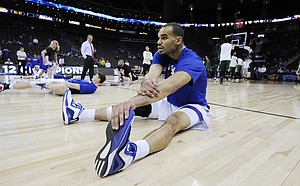 Images from the Jayhawk's game against Baylor in the semi-finals of the Big 12 Tournament in K.C. MO., Friday.
Podcast episode
Kansas basketball coach Bill Self and Jayhawks Perry Ellis and Wayne Selden Jr. discuss KU's 62-52 win over Baylor in the Big 12 Tournament semifinals. Kansas won with defense, a big night from Selden and the return of Ellis.
KANSAS 62, BAYLOR 52
KU, which hit its first two threes, finished three of 12 from three after making six of 46 over the last four games.
"I told them if they're open to shoot it and hoped like hell they wouldn't," Self joked. "It seemed like we were on fire. It seemed we all were running a fever out there."
More news and notes from Kansas vs. Baylor at the Big 12 Tournament
---
More like this story on KUsports.com