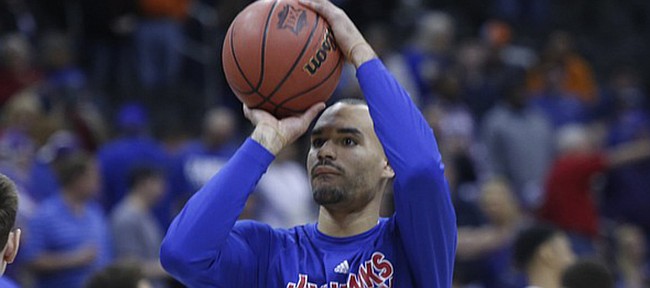 Kansas City, Mo. — Kansas University forward Perry Ellis has been told to tell the truth, the whole truth and and nothing but the truth about how his sprained right knee is feeling.
The junior's honesty helped coach Bill Self make the decision to sit the 6-foot-8 Wichita native against TCU on Thursday in Sprint Center — a game which KU won, 64-59, without its star forward.
"We practiced him this morning at 8 (a.m.). When I talked to him he said, 'Coach, I feel really good. I think another day would probably do me some good, but I can play.'
Photo Gallery
Kansas basketball v. TCU in Big 12 Tournament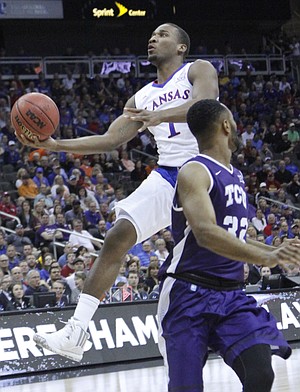 Images from the Kansas Jayhawks Big 12 Tournament game against TCU Thursday, March 12, 2015 at the Sprint Center.
Podcast episode
Kansas basketball coach Bill Self, as well as players Kelly Oubre Jr. and Landen Lucas, discuss KU's win over TCU in the quarterfinals of the Big 12 Tournament, in Kansas City, Missouri. They say the Jayhawks advanced without playing very well.
KANSAS 64, TCU 59
"I said, 'Well, if you think another day would do you some good, then we're going to wait another day.' He said he wanted to play, but when he threw in there, 'I think another day would help me,' I made the decision right there, we're going on play him tomorrow. Hopefully he will play (Friday, in 6 p.m. Big 12 semifinal vs. Baylor).  But we will get him up and practice him in the morning," Self added, speaking to reporters in the interview room.
A few minutes later, outside the locker room, Self added: "He told me this morning, 'Coach I feel real good. I'm getting better each day. I feel pretty confident.' When he said, 'Pretty confident,' that was cue to me. When you feel more confident, that's when you'll play. I anticipate him trying to do some things tomorrow."
---
More news and notes from Kansas vs. TCU at the Big 12 Tournament
---
More like this story on KUsports.com