Early errors and base-running mistakes doomed Kansas University's baseball team in a 8-2 loss to Central Michigan on Tuesday at Hoglund Ballpark.
The loss was the third straight for the Jayhawks (6-11), and the team's level of play is not sitting well with head coach Ritch Price.
"I'm disappointed as I've ever been in my entire coaching career with the start that we've had," Price said. "The one thing I just told our guys, though, is that we're not going to quit. We're going to keep grinding and see if we can figure it out and turn the thing around."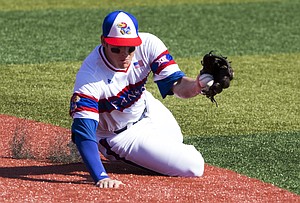 The Jayhawks positioned themselves to get on the scoreboard first in the bottom of the second with runners on second and third and one out. KU senior Blair Beck hit a soft fly to right field, which appeared to give Kansas a 1-0 lead on a sacrifice fly. The 1-0 lead ended up being an inning-ending double play, though, as senior Connor McKay left third base too early and was ruled out at third.
"He just made a really bad base-running play," Price said. "In professional baseball, college baseball, you make sure the catch is made before you run and if they throw you out at home, you tip your cap to the guy. The last thing you can do is leave early."
After the Chippewas (11-5) scored twice to break the scoreless tie in the top of the third, the Jayhawks made another mistake on the base paths in the home half of the inning. Freshman Matt McLaughlin hit a two-out single to center that was going to put runners on the corners with Colby Wright, the team's top hitter, coming up. But McLaughlin did not see that the throw home was cut off, and he got caught in a pickle between first and second. TJ Martin tried to score from third during the rundown, but was thrown out at the plate for the third out.
As if the base-running blunders were not enough, the Jayhawks did themselves no favors defensively either. In the top of the fourth, a throwing error by catcher TJ Martin and a dropped fly ball by McKay helped lead to three more runs for CMU.
"I just got crossed up," said McKay of his fielding error. "It was one of those things where I was still kind of dwelling on the play before, my base-running error at third, and you can't play baseball like that. I've got to leave it in the dugout, grab my glove, head back out there and play good defense."
The Jayhawks scored once in the fifth on a sacrifice fly from McLaughlin and again in the sixth on an RBI groundout from Michael Tinsley, but that wound up to be it for Kansas offensively.
The Chippewas added three insurance runs in the top of the ninth with RBI singles from Zach Fields, Logan Regnier and Cody Leichman.
The one bright spot for Kansas came from junior reliever Sam Gilbert, who tossed three scoreless innings, which included him retiring seven straight.
"I felt like I did a really good job early of attacking hitters early in counts with fastballs, which allowed me to get hitters with my off-speed stuff," Gilbert said.
Kansas' season-opening homestand will continue Friday-Sunday when the Jayhawks welcome Michigan to Hoglund Ballpark.
"They'll be athletic," said Price of the Wolverines. "They're picked to be in the top four teams in the Big Ten. They're coming in playing well just like Central Michigan came in playing well."
Central Michigan 8, Kansas 2
CMU 002 300 003 — 8 14 1
Kansas 000 011 000 — 2 6 2
W — Adam Aldred (1-0). L — Hayden Edwards (1-2).
2B — Connor McKay, KU; Zach Fields, Tyler Huntey, CMU.
KU highlights — Michael Tinsley 1-for-3, walk, RBI; Matt McLaughlin 1-for-3, RBI; Sam Gilbert 3.0 innings pitched, one hit allowed, walk, two strikeouts.