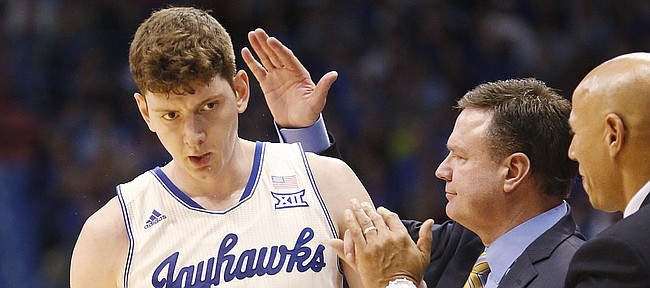 An encouraging development with this gritty Kansas University basketball team bubbles beneath the surface of concerns regarding Perry Ellis' knee injury and the in-limbo eligibility status of freshman center Cliff Alexander.
Hunter Mickelson, who does more good things in the paint than his scrawny appearance and numbers might mislead some to believe, just could be in the midst of changing this basketball team for the better.
The biggest number next to Mickelson's name is 16, as in DNP-coach's decision. Here's a guess: That number will remain frozen at 16 for the rest of his KU career.
Sometimes the best way to notice the defensive impact of a center armed with a knack for blocking shots lies not in watching his man work for points. Sometimes watching opposing guards reveals more.
Too often this season, guards have reached the paint and been emboldened to keep going to the hoop, their confidence growing with each successful trip.
True, there's not much upon which to go because until Ellis' injury and Alexander's suspension Mickelson didn't play significant minutes. But even in that little time, Mickelson seems to have introduced doubts into the minds of very quick guards. They seem to react to him in a way they haven't to any other KU player this season. Opposing guards just don't look as confident when Mickelson's in the game for the Jayhawks. They hesitate, even pick up their dribbles without a plan.
In the past two games, vs. West Virginia in Allen Fieldhouse and Oklahoma in Norman, Mickelson has combined for 33 minutes and totaled 13 points, eight rebounds, four blocked shots, three steals and seven personal fouls. Other than the fouls, those are mighty nice numbers for the 6-foot-10, 245-pound junior center from Jonesboro, Arkansas. He made 9 of 10 free throws in the two games, 2 of 4 field goals. He has reliable hands and a soft shooting touch. It will be interesting to see how often coach Bill Self uses Mickelson and Ellis together, once the first-team all-conference junior forward from Wichita returns.
Unlike in most seasons, blowouts weren't the norm for KU, but reasons for optimism abound. Mickelson makes the Jayhawks better. Ellis will be back. Brannen Greene isn't due for another suspension until some time early next season. Kelly Oubre is on the come. Fearless Frank Mason backs down from nobody.
March Madness very well could bring out the best in this bunch that won the Big 12 outright.
More like this story on KUsports.com