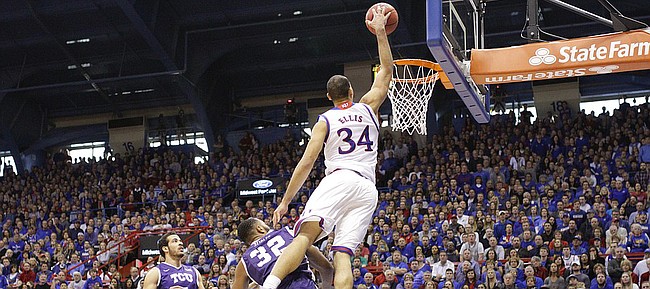 Kansas University junior forward Perry Ellis on Sunday was named first-team All-Big 12 in a vote of league coaches.
Sophomore point guard Frank Mason III was tapped second-team All-Big 12, while sophomore Wayne Selden Jr. and freshman Kelly Oubre Jr. were named honorable mention. Oubre also made the all-newcomer team.
Oklahoma's Buddy Hield, who was joined on the first team by Ellis, Rico Gathers (Baylor), Georges Niang (Iowa State) and Juwan Staten (West Virginia), was named player of the year. West Virginia's Bob Huggins was coach of the year, Iowa State's Jameel McKay defensive player of the year, Oklahoma's TaShawn Thomas newcomer of the year, Texas' Myles Turner freshman of the year and Baylor's Taurean Prince recipient of the Sixth Man Award.
"We were all hopeful that Perry would get player of the year, but there were several guys who were deserving. I'm happy that Perry is on the first team," KU coach Bill Self said. "I'm also happy for Frank that he was recognized. He's had a great year and certainly was deserving of second team. Our other players mentioned were Kelly and Wayne, and I'm proud Kelly was selected to the all-newcomer team. I thought 'Huggs' was well deserving of the coach of the year."
Ellis was named third-team all-league as a sophomore, while Selden was also named honorable mention as a freshman. Ellis is the only player in the league to rank in the top 10 in scoring (sixth, 14.2 ppg), rebounding (fourth, 7.0 rpg) and field-goal percentage (sixth, .471).
"It's certainly nice to be recognized favorably by the league coaches, but I kind of feel like I did last year with Andrew (Wiggins)," Self said. "Although Andrew didn't win player of the year, I knew he was right there and was hopeful that he would have won it. I feel the same way about Perry this year."
Of second-teamer Mason, who made seven free throws in the last 30 seconds Saturday and scored 21 points against Oklahoma, KU freshman backup point guard Devonté Graham said: "He's our leader. He's starting point guard for Kansas. You have to be a leader. He leads by example. Guys feed off his energy. When he's going, we're going. He does a great job of leading."
KU has had a conference-best 26 first-team selections in the 19-year history of the conference. KU has had a first-team pick for 15 consecutive years and 17 times in 19 years. KU also has had a league-best 99 All-Big 12 selections, totaling first-, second-, third-, honorable mention, all-defensive and all-newcomer team honorees. Texas is second with 75.
All-Big 12 first team: Ellis, Gathers, Niang, Hield, Staten. Second-team: Mason, Kenny Chery, Taurean Prince, Monté Morris, Le'Bryan Nash. Third-team: Jameel McKay, TaShawn Thomas, Phil Forte, Isaiah Taylor, Myles Turner. Honorable mention: Oubre, Selden, Dustin Hogue, Marcus Foster, Thomas Gipson, Nino Williams, Isaiah Cousins, Ryan Spangler, Kyan Anderson, Jonathan Holmes, Devin Williams.
All-defensive team: Gathers, McKay, Michael Cobbins, Anthony Hickey, Turner, Jevon Carter. All-newcomer team: Oubre, McKay, Thomas, Hickey, Turner.
Lucas excels: KU sophomore forward Landen Lucas had a career-high 13 points and career-best 12 rebounds in Saturday's 75-73 loss at Oklahoma
"Oh, man, he played well. He played big down in the post," Graham said. "He got a lot of rebounds. He was very helpful today. I'm glad he stepped up. It will give him some confidence heading into the postseason."
Forward Jamari Traylor said: "Landen stepped up. I feel a lot of guys stepped up. We definitely had a lot of fight coming back (from 11-point deficit). Devonté showed a lot of guts. He made some big shots down the stretch. Everybody was doing what they could."
Quite a season: The Jayhawks (24-7 overall, 13-5 Big 12) won the league by one game over Iowa State and OU (12-6).
"We had a remarkable year considering some of the stuff we've gone through," Self said. "Also, our talent level is really good. I will not apologize for that, but probably not the same as some Kansas teams we've run out there in a year the league has been the best it's ever been.
"It's been a great year," he added. "That was a good effort by us (in 75-73 loss to OU). Nobody was laying down. Nobody was playing just to play close (with Ellis, Cliff Alexander, Brannen Greene out and Selden not 100 percent healed from sprained ankle). It was a good effort by us. We just got beat."
KU will meet either Kansas State or TCU at 1:30 p.m. Thursday in a first-round Big 12 tournament game to be shown on ESPN2.
Coach of the Year: Bob Huggins, West Virginia
Player of the Year: Buddy Hield, Oklahoma
Defensive Player of the Year: Jameel McKay, Iowa State
Sixth Man Award: Taurean Prince, Baylor
Newcomer of the Year: TaShawn Thomas, Oklahoma
Freshman of the Year: Myles Turner, Texas
---
First Team all-Big 12
Rico Gathers, Baylor
Georges Niang, Iowa State
Perry Ellis, Kansas
Buddy Hield, Oklahoma
Juwan Staten, West Virginia
---
Second Team all-Big 12
Kenny Chery, Baylor
Taurean Prince, Baylor
Monté Morris, Iowa State
Frank Mason III, Kansas
Le'Bryan Nash, Oklahoma State
---
Third Team all-Big 12
Jameel McKay, Iowa State
TaShawn Thomas, Oklahoma
Phil Forte, Oklahoma State
Isaiah Taylor, Texas
Myles Turner, Texas
---
Honorable Mention all-Big 12
Dustin Hogue (Iowa State), Kelly Oubre (Kansas), Wayne Selden (Kansas), Marcus Foster (Kansas State), Thomas Gipson (Kansas State), Nino Williams (Kansas State), Isaiah Cousins (Oklahoma), Ryan Spangler (Oklahoma), Kyan Anderson (TCU), Jonathan Holmes (Texas), Devin Williams (West Virginia)
---
2014-15 Big 12 all-defensive team
Rico Gathers, Baylor
Jameel McKay, Iowa State
Michael Cobbins, Oklahoma State
Anthony Hickey, Oklahoma State
Myles Turner, Texas
Jevon Carter, West Virginia
---
2014-15 Big 12 all-newcomer team
Jameel McKay, Iowa State
Kelly Oubre, Kansas
TaShawn Thomas, Oklahoma
Anthony Hickey, Oklahoma State
Myles Turner, Texas