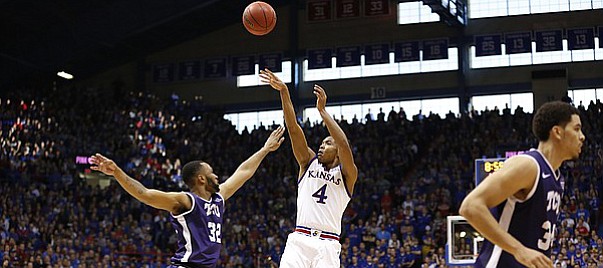 Norman, Okla. — Kansas University's basketball team would certainly love today's 3 p.m. rematch against Oklahoma to be a replay of KU's first meeting against the Sooners.
The Jayhawks, who have connected on just three of their last 36 three-pointers over the last three games, tied a school record by making nine threes in the first half — and finished 10-of-19 from beyond the arc — in an 85-78 victory over OU on Jan. 19 in Allen Fieldhouse.
"I don't think we're worried about it. Shots are going to fall," KU freshman point guard Devonté Graham said of KU's three-point shooting slump entering today's Big 12 regular-season finale in Noble Center.
He was 0-for-1 and his teammates 0-for-14 from three in Tuesday's 76-69 overtime win over West Virginia. The win gave KU (24-6, 13-4) the undisputed conference title and rendered today's game against the Sooners (20-9, 11-6) somewhat meaningless.
"On that night (Tuesday), they just didn't fall for us, but we found a way to win. We'll be good moving forward," Graham added.
KU enters today's game tied with Baylor as the most accurate three-point-shooting team in the conference (38.5 percent mark). In league games only, KU ranks second at 37.9 percent to Baylor's 40 percent mark.
"We're not going down there hopeful to make that many or wishing to make that many (as in first meeting in Allen), but I would say this, without an inside post scorer like Perry (Ellis, knee sprain), without his ability to score in tight, I would say it would probably behoove us to make a couple of perimeter shots Saturday," coach Bill Self said.
"I won't even talk about it (to players). I never talk about missing shots. All I talk about is taking good ones," Self added. "To me it's a good or bad shot when it leaves your hand, not if it goes in or not. ... I do get it, teams that make shots have the best chance to win. And we're playing against … Iowa State and OU would be the two best shot-making teams in our league. Certainly we have to play great defense, because we don't want to go down there, get in a H-O-R-S-E contest, because that probably wouldn't be good for us."
Sophomore wing Brannen Greene, who has made two of 19 threes the last six games, is 42.9 percent from three this season. He has made 43.1 percent of his treys in Big 12 games.
"It would be great for all our guys (to start hitting)," Self said. "Brannen and Wayne (Selden Jr., 38.5 percent on season, 39.7 in Big 12 games) have shot it so well for a period of time. But since that period of time, they haven't shot it as well. That's OK, too.
"I told Tyshawn (Taylor, former KU guard), when he was here working out with our guys, I said, 'It took you six games to make one shot in the (2012) NCAA Tournament. And we go all the way to the Finals. He makes his first three with three minutes left in the game. The thing about it is, we beat N.C. State that same year (60-57 in Sweet 16). We made three shots outside of two feet for the entire game, but we beat that the other night (vs. WVU) because I was told we made zero the other night outside of three feet.
"But you've got to make shots. You've got to have some shotmakers. We need to get good shots. If you get good shots, they'll fall. I'm confident in that," Self added.
There is one thing about the first KU-OU meeting the Jayhawks would like to avoid today. KU led that first contest by 19 points at halftime only to trail by four in the second half.
"They got it going the second half. They are a great offensive team," KU's Greene said of the Sooners.
OU is led by Big 12 Player of the Year candidate Buddy Hield, who leads the league in scoring at 17.3 ppg. The junior guard also contributes 5.4 boards. He scored 26 points off 7-of-19 shooting vs. KU in January. He was 4-of-13 from three and 8-of-9 from the line. Junior guard Isaiah Cousins (12.0 ppg average) scored 18 vs. KU off 7-of-15 shooting. Junior forward Ryan Spangler had 13 points and 10 boards.
Selden questionable: Wayne Selden Jr., who sprained an ankle in Tuesday's win over West Virginia, practiced on a limited basis on Friday and is listed as questionable for today's game, Self said Friday. Ellis (sprained knee) is definitely out today, and Cliff Alexander (eligibility issue) figures to miss his third straight game, meaning KU could be without three starters.
This, that: Lon Kruger is 78-47 in his fourth season at OU and 557-351 in his 29th season overall. ... OU is 13-1 at Noble Center this season. ... OU averages 72.3 points per game and has a plus-9.6 scoring margin. ... Senior transfer TaShawn Thomas averages 11.0 ppg and has 42 blocks. ... KU leads the all-time series, 142-65. KU has won 13 of the last 14 meetings. ... Self is 14-4 vs. OU, including a 14-2 mark at KU. Kruger is 6-16 vs. KU, 1-6 while at OU. ... Self is shooting for win No. 350 at KU. He's 349-75 in 12 seasons.
Possible Starters
KANSAS (24-6, 13-4)
F — Jamari Traylor (6-8, Jr.)
F — Landen Lucas (6-10, Soph.)
G — Frank Mason III (5-11, Soph.)
G — Wayne Selden Jr. (6-5, Soph.)
G — Kelly Oubre Jr. (6-7, Fr.)
OKLAHOMA (20-9, 11-6)
F — Ryan Spangler (6-8, Jr.)
F — TaShawn Thomas (6-8, Sr.)
G — Jordan Woodard (6-0, Soph.)
G — Isaiah Cousins (6-5, Jr.)
G — Buddy Hield (6-4, Jr.)
More like this story on KUsports.com