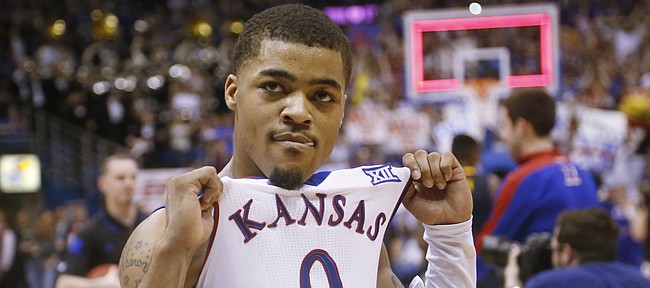 Juwan Staten and Gary Browne watched from the bench, too injured to play for West Virginia. Cliff Alexander, sitting in NCAA limbo and at the end of the Kansas bench, couldn't help. Perry Ellis played 17 minutes, until he injured his knee and headed into the locker room. When Ellis returned to the bench late in the game, he, like Alexander, was wearing sweats.
The young West Virginia players weren't worried about who wasn't playing when they stormed to a 18-point lead by dominating the boards.
And the remaining Kansas players didn't have their minds on the guys wearing sweats.
Photo Gallery
Kansas basketball v. West Virginia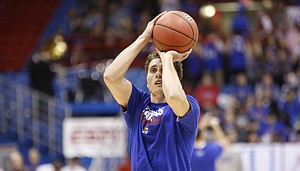 Images from Tuesday's game between the Jayhawks and Mountaineers at Allen Fieldhouse.
Podcast episode
Kansas basketball coach Bill Self discusses the highs and lows of a long night that included an 18-point comeback, overtime and an outright Big 12 championship.
Podcast episode
Kansas basketball players Frank Mason III, Jamari Traylor and Devonté Graham discuss the Jayhawks' wild comeback and overtime victory over West Virginia in KU's regular-season home finale.
KANSAS 76, WEST VIRGINIA 69 (OT)
Players from both sides competed with such vigor that easy buckets were tough to come by, so it's no surprise then that the toughest guy in a Kansas uniform, Fearless Frank Mason, didn't let his team lose. Not much of a factor in the first half, Mason delivered the outright Big 12 title by lowering his shoulder, driving hard, keeping his defender off of him with a forearm here, an elbow there, and contorted his body when necessary to finish often against much taller defenders.
Mason scored all but five of his 19 points after halftime and carried the Jayhawks to a 76-69 overtime victory. In 42 minutes, Mason skied for seven defensive rebounds, dished three assists, turned it over once and had three steals. Mason made 11 of 12 free throws overall, including all seven in the second half.
The way Mason kept willing himself to the hoop, whittling away at the deficit, was reminiscent of Tyshawn Taylor bringing KU back from a 19-point deficit to victory in the last of the Border War games in Allen Fieldhouse.
Asked about bringing his team back from eight points down with 2:24 left in regulation, Mason referenced another great Kansas comeback.
"Years ago, the 2008 team was down nine with two minutes left and they kept fighting," he said. "Just keep believing. Know it's possible."
Even on a night Kansas missed all 15 three-point shots and was outrebounded, 46-34, it was possible. KU made 18 more free throws than West Virginia and attempted 15 more than the Mountaineers, a disparity not lost on coach Bob Huggins, who was in the ear of one particular referee all night. Huggins also bemoaned his team's inability to make shots and praised Kansas for doing a better job of driving to the hoop than his team, which too often settled for jumpers.
Playing the sort of rugged defense that hasn't always been there this season, Kansas limited the visitors to 19 second-half points.
The rough-and-tumble style of basketball also brought out the best in Jamari Traylor (14 points, nine rebounds).
The dramatic nature of the comeback took the players' minds temporarily off the rough news of the night, the sprained knee that Perry Ellis suffered. The star junior from Wichita's status put worried looks on the faces of his father, mother and sister sitting in the family section several rows up behind the visiting bench.
Ellis' teammates shared the concern.
"We're very worried about Perry," Mason said. "He's a huge part of our team. We're going to need him going forward in March."
He was not needed Tuesday night, thanks to Mason.
Kansas was down 11 with 10 minutes left, when Mason continued the comeback by hitting a pair of free throws. He scored four points in the final 47 seconds of regulation on a pair of relentless drives.
"I felt like couldn't nobody stay in front of me," Mason said. "I felt like every time I had the ball in my hands I could make something positive happen."
After West Virginia pulled with two points with 1:34 left in overtime, Mason outscored the Mountaineers, 8-3, the rest of the way and made all six of his shots at the free-throw line during that stretch.
"We did a great job of fighting back and we got to cut down the nets at home," Mason said. "That was our goal."
Kansas already had clinched a share of its 11th consecutive Big 12 title the night before when Iowa State climbed out of an even bigger hole at home against Oklahoma. Easy outs are nearly impossible to find in the Big 12, which makes it not only one of the top two or three leagues in the nation, but the most entertaining.
Next week's Big 12 tournament in Sprint Center promises to deliver drama from wire to wire.
---
More news and notes from Kansas vs. West Virginia
---