Gwangju, South Korea — When the Team USA bus stopped in front of Gwangju High on Tuesday night, Kansas University men's basketball players saw a number of high school students waiting to greet them in front of the gymnasium's entrance.
Inside, more than 100 high schoolers were waiting. The students cheered and clapped for made baskets in warmups with loud roars during dunks.
It was a warm welcome for the Jayhawks, who returned to the court for the first time since arriving in Korea around 1 a.m. Tuesday (11 a.m. Monday CDT).
"It felt good. It definitely felt good," KU junior guard Wayne Selden Jr. said. "It felt like we haven't played basketball in like five days, but it's only been probably two or three. We're just trying to get our stuff back together, get our feet under ourselves."
http://www2.kusports.com/photos/galleries/2015/jun/30/team-usa-practice/111734/
Photo Gallery
Team USA practice June 30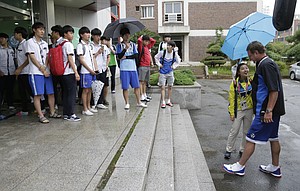 Photographs from a practice session at Gwangju High School Tuesday, June 30, in Gwangju, South Korea.
Most of the high school students stayed for the first 20 minutes of the hour-long practice. The ones who stayed for the entire length were rewarded by getting to take pictures with the Jayhawks afterward.
"You know what, the people here have been unbelievably nice," KU coach Bill Self said. "Coming to the high school was obviously — a lot of students that stuck around. It's amazing. They really like the dunk. I guess it's a sign of a good player if he can dunk."
The Jayhawks spent the first half of practice split between guards and forwards for individual drills before uniting to run through plays.
They will practice again at 10 a.m. Wednesday (8 p.m. Tuesday CDT) and plan to practice with more intensity.
http://www2.kusports.com/photos/galleries/2015/jun/30/team-usa-practice/111738/
"I think jet lag has definitely hit everybody, pretty evident by practice," Self said. "But it was good to get the guys out to go up and down a little bit, get a sweat going. But tomorrow is when we really get after it. The guys had a little bit of a chance to sightsee, but most of them were wiped out by the afternoon. I'd be surprised if not everybody did hit the bed this afternoon."
Selden added: "I'm really tired right now. Everybody is real tired. We're just really trying to get acclimated to the timing and all that stuff."
https://www.youtube.com/watch?v=u_a3JyUGx74
Podcast episode
Kansas coach Bill Self talks about the Jayhawks' first practice in Korea and their first day in the country.
Podcast episode
Kansas junior guard Wayne Selden Jr. talks about the Jayhawks' first practice in Korea and their first day in the country. His biggest cultural shock? "The thing that probably surprised me the most was playing Uno with Chile. If you don't say, 'Uno,' they give you five cards back and ...
In their first day in Gwangju, the Jayhawks went to a flag raising ceremony at 10 a.m. in the athletes village before spending time with other countries.
"Today we had a long day," Selden said. "We woke up early and did a flag ceremony. Then we went to like the game room. We played shooting games with Mexico. We played video games with Mexico. We played Uno with Chile. We've been really just stepping outside our box."
"Once you get here, you really realize this is a big deal," Selden added. "We're really excited for this opportunity."
Following Wednesday's practice, the Jayhawks will scrimmage against China on Thursday. Team USA opens pool-play versus Turkey at noon Saturday (10 p.m. Friday CDT) at DongKang College Gymnasium. Friday's game will be broadcast in the United States on ESPNU.
http://youtu.be/F4YEug5Z_g4
http://youtu.be/at2UNt0JERE
https://www.youtube.com/watch?v=9m5N2-4Q3M4
---
Self on Ryan retirement
University of Wisconsin men's basketball coach Bo Ryan on Monday announced that the upcoming season will be his last before retiring.
"I've decided to coach one more season with the hope that my longtime assistant Greg Gard eventually becomes the head coach at Wisconsin," Ryan said in a statement.
Ryan, 67, has led the Badgers to back-to-back Final Four appearances and a 357-125 record in 14 seasons.
Self didn't hear about Ryan's announcement until he was told of the news in an interview, but he said he will miss the coach he battled against in the Big Ten for three seasons at the University of Illinois.
"That'll be tough for the Big Ten," Self said. "Bad for the Big Ten. Bad for our college game, but it's also great, though. He's had an unbelievable career. Won at every level. Nobody has done a better job coaching his team over the last several years from what he has in his. I'll be excited for him, but I'll also be a little disappointed because he's one of the few characters that we have in our game."
---
Self on Langford invite
Former KU guard Keith Langford has accepted an invitation to participate in the 2015 U.S. Pan American Games training camp as one of the 23 players trying out for the 12-player team.
"I'll be shocked if Keith doesn't make the team," Self said. "Keith is good. … I'll be surprised if Keith doesn't make the team. He's the highest paid player in Europe. So yeah, it'll shock me if he doesn't. It'll be nice — I'm sure that'll be well-scouted by all of the NBA personnel — so it would be nice for him to get seen by everybody."
The Pan-Am Games begin July 21-25 in Toronto.
---
Kansas in Korea: Exclusive coverage of KU basketball at the World University Games from KUsports.com's Bobby Nightengale and Mike Yoder, who are on the ground in South Korea.