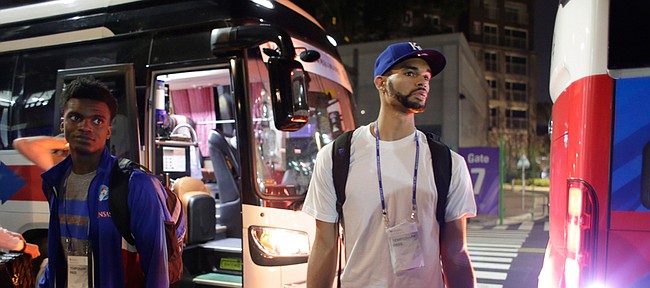 Gwangju, South Korea — More than 28 hours after leaving Lawrence, the Kansas University men's basketball team arrived at the athletes village in Gwangju, South Korea, where it will represent the United States in the World University Games.
The Jayhawks left Lawrence around 6:15 a.m. on Sunday, flying from Kansas City to Detroit. Following a several-hour layover, they left Detroit and the states for the 13-hour flight to Seoul, South Korea.
Photo Gallery
Kansas basketball team arrives in Gwangju
Kansas-Team USA arrived at the Athletes Village in Gwangju, Korea, shortly after midnight June 30, 2015.
After arriving in Seoul at 6 p.m. Monday, local time, the Jayhawks waited a few hours before taking a bus to the athletes village in Gwangju. Four hours and one pit stop later, they arrived at the village's high-rise apartments at 12:50 a.m. Tuesday.
"It's been a long day," KU coach Bill Self said. "I guess we pulled out at 6:15 and we got to Gwangju now, so it's 11 o'clock (Central time). A 28-hour travel day. But it was fine. The flight from Detroit to Seoul was first-class. Nothing to complain about."
Sitting in first-class for the flight to Seoul, the Jayhawks sat in lay-flat beds with individual TVs and full entertainment options.
"It was real nice," said sophomore Devonté Graham, who is unable to play while he recovers from a partially torn quad tendon. "I'm glad they gave us those chairs. We got to lay out. They had the TVs right there. We could play games on it and everything."
Graham watched the movies "Taken," "Let's Be Cops," and "Focus" while playing Pac-Man around a few hours of sleep.
"It was long, you know," Graham said. "The flight went pretty well. It didn't seem that long. We slept, watched some movies, got there. I'm just happy to be here — tired."
After their flight, the Jayhawks were expecting to take the Korea Train Express to Gwangju, but switched to a large bus because of scheduling issues.
"We didn't anticipate that," Self said. "We thought we were catching a train, which would have been nice, one of those speed trains. But we had a four-hour bus ride after we landed and then had to wait a couple of hours and get organized on the bus ride because there's so many teams coming at the same time. But it seems to be pretty organized."
The team will now settle in for the next few weeks, but the Jayhawks weren't thinking too much about their new home after the 28-hour journey.
"Not yet, I don't think it's sunk in yet," said Graham, a Raleigh, North Carolina native. "Maybe tomorrow once we get a little nice sleep, and wake up and we realize that we're in a different country. But for right now, because we've been around the USA soccer team and stuff, it still feels like we're in the U.S."
The Jayhawks will take the court for a 7 p.m. practice Tuesday (5 a.m. CDT).
Later this week, KU will scrimmage against China on Thursday at 5 p.m. (3 a.m. CDT) before facing Turkey in its first game at noon on Saturday (10 p.m. Friday CDT) at DongKang College Gymnasium. Friday's game will be broadcast in the United States on ESPNU.
---
Kansas in Korea: Exclusive coverage of KU basketball at the World University Games from KUsports.com's Bobby Nightengale and Mike Yoder, who are on the ground in South Korea.
More like this story on KUsports.com