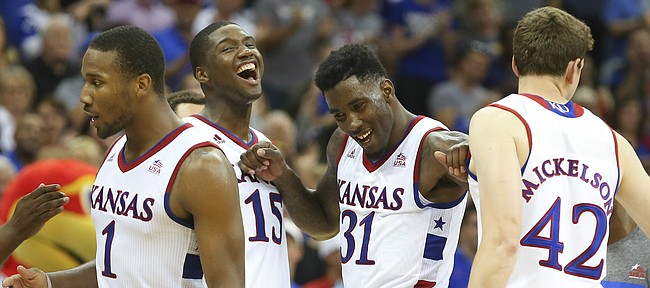 Let Kansas University's overseas basketball adventure begin. ...
KU/Team USA's 12 players plus the injured Devonté Graham, four coaches and six support staff members early this morning were to fly from Kansas City International to Detroit, on to Seoul, South Korea. Then they were to board a train to Gwangju with an arrival time at World University Games Village about 2 a.m., Korea time, Tuesday.
"Detroit to Seoul is roughly 13-14 hours. Coach (Bill) Self is already loading up on movies and those things for the trip," said Fred Quartlebaum, KU director of student-athlete development. He will work as assistant coach with Jerrance Howard and video coordinator James Cox during the July 3-14 Games in Gwangju. KU assistants Norm Roberts and Kurtis Townsend and director of operations Brennan Bechard remain in Lawrence for the July recruiting period.
"It should be a fun time. I think it will be a great time for us to just bond even on that long flight," Quartlebaum added.
Each apartment suite in the Village will sleep up to seven members of the traveling party.
"We're just honored and thrilled to be over there. I'm sure there will be little hiccups along the way (regarding practice gym availability). We're going to be excited and engage ourselves every single day we're there," Quartlebaum said.
The Jayhawks will play an exhibition game against China at 3 a.m., Central time, Thursday, then tip it up for real against Turkey at 10 p.m., Central time, Friday, with that game on ESPNU.
"This is fun," Self said of the upcoming trip. "Seventeen days is a long time to be all serious. We'll do different things all the time. We'll say, 'Guys, hey be on time, represent yourself and us right and let's go have some fun.'''
Self said coaches would scout opponents' games, but will go into the opener against Turkey with no scouting report.
"We have no idea on rosters, none of that stuff. Even if we did have rosters how would you know what No. 13, his strengths and weaknesses are?" Self said. "We're not going to be able to pronounce many names. The hardest game to prepare for is the first one, Turkey.
"We won't have any book on them. We would not have seen them until we get there and they play a game," Self said. "We may ask other coaches. After that, everybody we play we'd seen play. We'll have a decent book on teams but not the first game."
The players when they are not practicing and sightseeing will be working on assignments in a class on Korean culture they've been taking the last three weeks on campus.
"What a great opportunity to put a curriculum together for our guys so when they get over there, they will have a sense of understanding of the culture of Korea," Quartlebaum said, noting KU's academic support staff came up with the idea of a class for credit hours.
"The great thing is spending time in the classroom, getting that experience and having people who have background on the history and culture (of Korea) to share with our guys," Quartlebaum added.
KU's traveling party: Players Frank Mason, Wayne Selden, Lagerald Vick, Nic Moore, Evan Manning, Tyler Self, Julian DeBose, Carlton Bragg, Jamari Traylor, Landen Lucas, Perry Ellis, Hunter Mickelson, Devonté Graham (injured). Coaches: Bill Self, Jerrance Howard, Fred Quartlebaum, James Cox. Support staff: Sean Lester, Dr. Larry Magee, Bill Cowgill, Chris Theisen, Chip Kueffer, Tim Skoch.