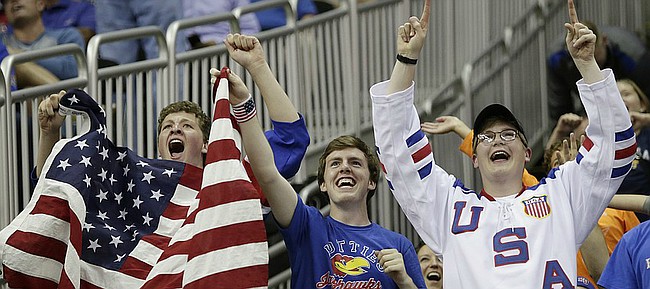 Team Canada basketball coach Barnaby Craddock now knows why fellow countryman/former Kansas University guard Andrew Wiggins speaks so highly of the Jayhawks' storied hoops program.
Fan support — to the tune of 8,235 spectators for a World University Games exhibition contest on a Tuesday in June in Sprint Center — speaks volumes about the interest of the Jayhawk faithful.
"That's a fantastic crowd," Craddock said of those who chose to attend KU's 91-83 victory earlier in the week over a squad of current and former college players from schools in Canada. "They're loud, vocal. Every basket that went in it was hard for our guys to stay focused and stay positive with the crowd that loud. It's exciting to play here and it's a great fan base that gives a lot of support and makes basketball games like that be played the way they should be," Craddock added.
The two teams will tangle in their second World University Games practice game in four days at 7 tonight in Sprint Center. The game is not on TV. It will be broadcast on Lawrence radio station KLWN.
It's the final tuneup for the Jayhawks before they head to South Korea — site of the July 3-14 Games in Gwangju, South Korea — on Sunday.
"It's a great experience for guys on our team from Canada that came down here to (witness) such a storied tradition of Kansas Jayhawk basketball," Craddock said. Canadian superstar Wiggins, of course, played in Lawrence a year before being taken No. 1 in the 2014 NBA Draft.
"To step on the court and hear that anthem (Canadian anthem sung before U.S. anthem) is a great feeling. The guys have been talking about that."
If Canada hopes to gain a split in the two practice games, it will likely need to harness KU junior point guard Frank Mason III, who had 16 points in the decisive fourth quarter of Tuesday's KU victory. Mason finished with 28 points off 9-of-14 shooting. He was 8-of-8 from the free throw line and hit two of four threes.
"He led their team the whole night and hit some big shots," Craddock said. "I thought he was fantastic. He's a challenge for us. We struggled to guard him correctly. He's going to make Kansas fans pretty happy this upcoming season."
Mason and SMU senior Nic Moore are expected to handle the lead guard duties for KU in South Korea. Moore scored five points in the opening minutes Tuesday, finishing with nine off 2-of-7 shooting with five assists. Devonté Graham is injured and thus can't play in the upcoming eight games in Korea.
"I was very disappointed when I got the news (of partially torn quad). When Devonté told me, I was down myself because he was playing so great," Mason said. "I was looking forward to playing with him in the backcourt.
"Nic has been great. He's been talking, being the person he is — vocal. He's helping our team in a number of ways. He can score, pass the ball, obviously what we needed this past year, a vocal leader. We both are trying to be vocal, to give us the best chance.
"Even if he wasn't part of the team I'd try to improve my vocal leadership skills," Mason added. "Seeing him be a vocal leader and him being a senior can help me do things better. We've been picking up different things from each other, trying to make each other better for the future."
The Jayhawks, who scrimmaged the Canadians during part of Thursday's practice in the Jayhawks' practice facility, will be hoping for continued improvement from freshmen Carlton Bragg and Lagerald Vick. The 6-foot-9 Bragg and 6-5 Vick each had four points, coincidentally each off 2-of-8 shooting Tuesday. Bragg had four rebounds and three steals; Vick a rebound and steal.
"I like them. Those guys listen and work hard. As long as they listen and work hard they'll be fine," said KU junior Wayne Selden, Jr., who had 13 points and six assists with no turnovers in 28 minutes in the Tuesday exhibition.
Taking it easy: KU coach Bill Self, who along with his assistants wore short sleeve, KU/Team USA golf shirts on Tuesday, was relaxed during Exhibition No. 1.
"He was loose, free with everybody," said senior Jamari Traylor, who scored 12 points and grabbed 10 boards in 19 minutes. "He wants to win obviously. He's letting guys go out and (say), 'Hey, everybody's going to play tonight. Go defend, play hard,''' Traylor added. "Guys will make mistakes but make them going hard."
This, that: Legendary KU broadcaster Max Falkenstien will serve as an honorary assistant coach tonight, Self said. He'll sit on the bench and be with the squad before and during the game. ... Today's game will be aired on the Jayhawk radio network which includes Lawrence's 1320 KLWN. The game is not on TV. ... Tickets were available on the Sprint Center Website at 5 p.m., Thursday. The crowd is expected to be in the same range as Tuesday's game.