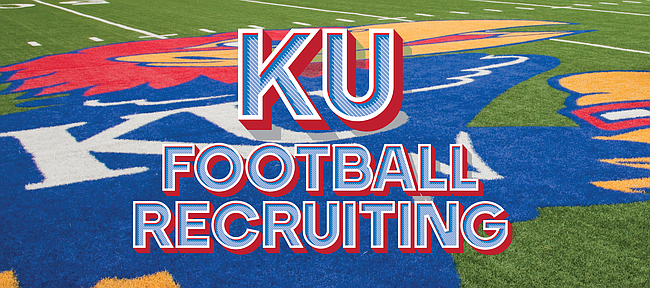 Three-star, Class of 2016 athlete Marquis Smith orally committed to Kansas University's football program on Saturday, according to JayhawkSlant.com.
Smith, 5-foot-10, 170 pounds, played quarterback at Ypsilanti (Michigan) High, but could be headed toward the secondary at Kansas. Known for his toughness, Smith also could factor in as a kick returner.
KU running-backs coach Reggie Mitchell — a Michigan native — and head coach David Beaty teamed up to land Smith, who becomes the sixth player in the 2016 class to commit to the Jayhawks.
He chose KU over offers from Ball State, Eastern Michigan, Indiana, Kent State, Toledo and Western Michigan.
'Program' challenges Jayhawks
It's not exactly boot camp, but KU's football team has been put to the test during the past couple of days with the arrival of the training regimen known as The Program.
The training challenge, a two-day event that several other KU athletic teams have taken on in the past, tests mental toughness, physical strength and perseverance in a similar but much less intense way than several military special-forces units are put through.
Included in KU's week of training were a surprise 4 a.m. wake-up call for an exercise in the swimming pool, tests that involve carrying bodies and objects in adverse conditions and mental challenges that might have proven to be the most draining.
The idea behind The Program was not to exhaust the athletes mentally and physically — though that happened — but to foster a new sense of team and togetherness that the KU coaching staff hopes will benefit the Jayhawks on the field this fall.
Players and coaches alike tweeted their thoughts about the training throughout the week, including head coach David Beaty, who wrote, "Trust is the foundation of building relationships. Tremendous experience having #TheProgram work with our guys."
Avery to Sam Houston
According to his Twitter account, former Kansas running back Corey Avery, who was dismissed from the team last week for violating team rules this spring, has landed at FCS school Sam Houston State.
Because Sam Houston competes in a lower division than KU, Avery, a sophomore from Dallas, will be eligible to play immediately.
The Huntsville, Texas, university football program was picked as the No. 3 FCS team in the country by Lindy's college football preview magazine.
Harris, Johnson rep KU
Never afraid to show support for their university, former Jayhawks Chris Harris and Steven Johnson, now with the Denver Broncos, participated in a battle of the conductors of sorts in Denver this week.
A handful of other Broncos, including Texas A&M; standout Von Miller and Tennessee legend Peyton Manning, joined in the competition, which featured the athletes conducting a Colorado symphony through renditions of their school fight songs.
The latest version of "I'm a Jayhawk" featured a smiling Harris and sophisticated-looking Johnson wearing their Bronco jerseys and leading the orchestra with batons.