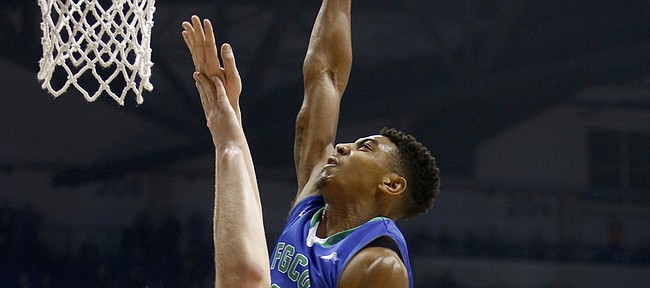 Kansas University's World University Games basketball team roster now consists of 10 Jayhawks, one SMU Mustang and a Florida Gulf Coast Eagle.
Julian DeBose, a 6-foot-4 senior combo guard who averaged 11.6 points and grabbed 3.9 rebounds a game last season while playing for former KU assistant Joe Dooley's FGCU squad (22-11), was added to KU's Team USA roster Saturday as a replacement for the injured Devonté Graham.
DeBose, who arrived in Lawrence on Saturday and will begin workouts today, will play in Tuesday's and Friday's KU-Canada exhibitions in Sprint Center and also in the actual Games, July 3-14 in Gwangju, South Korea.
"He's a 6-foot-4, 200-pound guard who has been playing for Joe, so he understands in theory what we are trying to do both offensively and defensively," KU coach Bill Self told the Journal-World. "Joe wanted us to take him all along. We decided to take our guys plus Nic (Moore, SMU). Then when Devonté got hurt (quad injury Wednesday), we obviously needed to add somebody.
"Joe (Dooley) said he will remind us a lot of (former KU guard) Travis Releford," Self added. "He's got good size. He's a jack of all trades and a great energy guy."
A transfer from Rice who is originally from Washington, D.C., DeBose hit 43.2 percent of his shots last season, including 31.7 percent from three (33 of 104). He had 41 assists against 41 turnovers. He scored in double figures in 20 of 30 games played.
"It's a terrific opportunity for Julian to not only represent the USA but also to play against some of the best competition at this level in the world," Dooley said. "For him to be selected is a testament to all the hard work he's put in, and we're looking forward to watching him in action."
In his second and final season at Rice, DeBose started all 30 games and averaged 10.4 points and 4.3 rebounds.
"I want to thank coach Dooley and coach Self for this opportunity," DeBose said. "I'm extremely thankful, excited and honored to represent my country."
Self said he is not familiar with DeBose's game.
"I knew of him a little bit in high school," Self said. "I watched him play AAU ball. I knew he scored quite a few points with Rice. I never really studied him."
He said DeBose will play a big role on the team.
"We're all going to play about the same (minutes), so, yes, he'll play a lot," Self said.
Self said he hopes he won't have to add any more players to the 12-player roster.
"That will be it for our team, unless of course there's another injury or something. We hope there's not," Self said.
Of the two extra slots on the team that have been filled, Self said: "If we could have taken Elijah (Johnson), or Trav (Releford) or Tyshawn (Taylor) ... they're too old," Self said of tourney age restrictions. "Xavier (Henry, currently not signed with NBA team) wanted to go but can't because of his injury. That would have been great.
"We're good. We're gonna take these young cats. I actually like our team. It would have been great if we had BG (injured Brannen Greene), Svi and Cheick (foreign born Mykhailiuk and Diallo) able to go, too, but I do like our team."
KU's team consists of guards DeBose, Moore, Frank Mason III, Wayne Selden Jr., Lagerald Vick, Evan Manning and Tyler Self, plus forwards Carlton Bragg, Perry Ellis, Landen Lucas, Jamari Traylor and Hunter Mickelson.
About DeBose: Former FGCU point guard Brett Comer said this about DeBose to the Naples (Florida) Daily News: "Very good athlete. Finishes around the rim really well. Can shoot the ball. He's a really big-time scorer."
Former FGCU guard Bernard Thompson nicknamed DeBose "Half a Bucket," the Daily News reported. "When he gets the ball, he gets a bucket or someone else gets a bucket," Thompson said. "He's very athletic for his size."
Dooley told the paper: "Obviously in transition he's very good. He stretches the floor. We need to keep him on the floor at the end of the game."
DeBose chose FGCU as a transfer destination over George Washington (Dooley's alma mater), Siena and Towson State.
Oh, Canada: Self said the Jayhawks would scrimmage with the Canadian team on Monday, then play the 7 p.m. exhibition Tuesday, scrimmage with the Canadian team Thursday, then play Canada again at 7 p.m. Friday.
Here is the roster of Team Canada:
4 — Jarred Ogungbemi-Jackson, 5-9, G, Winnipeg, MB (University of Calgary).
5 — Johnny Berhanemeskel, 6-1, G, Ottawa, Ontario (University of Ottawa).
6 — Mamadou Gueye, 6-7, F, Edmonton, Alberta (University of Alberta).
7 — Aaron Best, 6-4, G, Scarborough, Ontario (Ryerson University).
8 — Jahmal Jones, 6-0, G, Mississauga, Ontario (Ryerson University).
9 — Adika Peter-McNeilly, 6-3, G, Toronto, Ontario (Ryerson University).
10 — Jordan Baker, 6-7, G, Edmonton, Alberta (University of Alberta).
11 — Caleb Agada, 6-4, G, Burlington, Ontario (University of Ottawa).
12 — Chris McLaughlin, 6-9, F, Oakville, Ontario (University of Victoria).
13 — Josh Wolfram, 6-8, F, Kamloops, British Columbia (Ryerson University).
14 — Tommy Nixon, 6-6, F, Vancouver, British Columbia (University of British Columbia).
15 — Mikeal Andrews, 6-10, C, Oakville, Ontario (Bishops University).
Head coach is Branaby Craddock, University of Alberta. Assistants are John Campbell, University of Toronto, and Shawn Swords, Laurentian University.