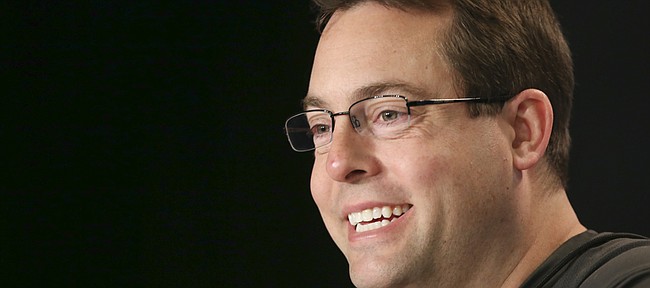 The Sunflower Showcase youth basketball tournament has brought coaches from all over the country to Sports Pavilion Lawrence for this weekend, but it pulled one play-caller in particular back to his roots.
University of Alabama-Birmingham head coach and former Kansas University guard Jerod Haase arrived at the Sunflower Showcase on Friday afternoon to recruit with UAB assistant Jeff Wulburn. Haase played at Kansas from 1994-1997 and coached under former Jayhawks and current North Carolina coach Roy Williams from 1999-2003, but has not been able to return to Lawrence the past few years.
Haase would like to return to Allen Fieldhouse while he is in Lawrence, since he has not seen it since the facility was renovated in 2009.
"I'm hoping to get by at some point, and if it's not this trip, some time soon because I have so many fond memories, and I've heard so many good things about the facilities that are in place now," Haase said.
Haase predicted the Showcase would greatly benefit Lawrence for years to come.
"The city looks great, and this facility is unbelievable," Haase said. "This kind of event does nothing but good things for Lawrence."
Haase led UAB to a second-round upset of Iowa State in the 2015 NCAA Tournament, upending the No. 3-seeded Cyclones, 60-59. The NCAA Tourney win and a 20-16 season has led to more success in recruiting for Haase and the Blazers.
"One thing I talk a lot about is that it's not about the team but about building a program," Haase said. "After three years now, I really feel like the program has kind of my stamp on it, and recruiting has gone well since I've got the job. I feel like as a program that we've made a lot of progress."
Haase would like to coach against his alma mater.
"I would love to play Kansas just in terms of getting back into the area and that kind of thing," Haase said. "There is always that possibility moving forward and it could be really good. Now I just need to see if I can twist somebody's arm and see if they'll come down to Birmingham sometime, too."
One other coach with Sunflower State connections sat just a few seats away from Haase. Wichita State head coach Gregg Marshall was also in attendance.
KU targets Wilkes, Reese back in action: Wyatt Wilkes, a 6-foot-8, 205-pound small forward from Winter Park, Florida, scored 16 and seven points, respectively, in SE Elite's Florida 16-and-under's two games Saturday.
Wilkes drained two early three-pointers in SE Elite Florida's 72-68, but was forced to leave due to a shoulder injury late in the first half.
Wilkes said he did not think he would be able to play in his team's night game against Team Illinois, but ice and medicine helped him overcome the pain and take the court.
"Advil is an amazing thing," Wilkes said with a laugh after hitting four three-pointers in a 86-65 loss to Pumas.
Wilkes has not had recent contact with the KU coaching staff and has had more serious discussion with numerous Div. I schools in the Southeast region.
"Tennessee, Vanderbilt, Purdue, Virginia Tech. Clemson, Florida, Florida State, Georgia," Wilkes said. "That's just off the top of my head."
SE Elite Alabama's Alex Reese is the only other player on KU's radar at the Sunflower Showcase.
Reese scored seven points in SE Elite Alabama's losses to the New York Lightning and Wisconsin Academy.
Reese said he has been in recent contact with KU assistant Norm Roberts, but he has not seen or talked to him or any of the Jayhawks coaching staff at the Sunflower Showcase. The 6-9, 225-pound forward from Pelham, Alabama, had never been to Lawrence prior to Thursday, but he has enjoyed
his time so far at the tournament.
"I like it. It's nice," Reese said. "It's really nice out here."
More like this story on KUsports.com