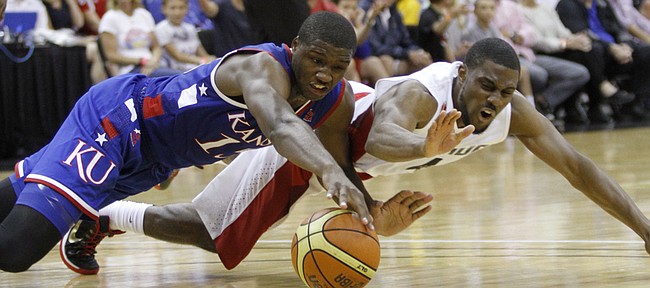 When the World University Games stretch of basketball started for Kansas University at Sprint Center with a pair of exhibitions vs. Canada, Carlton Bragg was getting tossed across the lane by a Canadian post player. No whistle. Hello basketball vs. men. Goodbye basketball vs. boys. By the end of the South Korean experience, Bragg was diving for loose balls, giving no thought to protecting his broken nose. It didn't take him long to get the hang of it.
Those public lessons won't be learned by most college basketball freshmen until November and won't sink in until long after that. Advantage Kansas.
The trip that ended with the players wearing gold medals and having a much better understanding of another country's culture will benefit them forever. And it definitely gives Kansas a head start on the basketball season.
Obviously, the experience of playing so well when the team relied so heavily on them will fuel the confidence of returning starters Frank Mason and Wayne Selden. But look to the front court to find the players who just might have benefited most from the experience, Bragg and center Hunter Mickelson.
Bragg, a 6-foot-9, 225-pound McDonald's All-American ranked by Rivals No. 21 in the Class of 2015, sweats potential. He has a natural knack to find the open man, handles the ball well for a man his size, and has a very soft touch from the perimeter.
He also has spent most of his life playing against smaller, slower athletes who don't have what it takes physically to keep up with him. Struggling with the transition to a completely different level of basketball with bigger, faster bodies than he's used to facing is inevitable. He's an extra step down the road of that transition, thanks to the summer practices and overseas game experience.
Another factor weighing in Bragg's favor as he works on developing his skills, savvy and toughness has to do with the experience level of teammates. In recent years, he might have been thrown into situations for which he wasn't ready and might then be viewed as a disappointment in the eyes of greedy spectators who want freshmen to perform like sophomores and juniors.
Not only will Bragg become better facing older players daily in practice, he won't feel the weight of expectations to the degree other recent freshmen have. If he backs up Perry Ellis for 10 minutes a game and performs like one of the most talented backups in college basketball, nobody can complain. Anything he gives KU beyond that is a bonus.
Facing older, stronger athletes in the World University Games gave him the knowledge of how much stronger he needs to become and will enable him to push himself all the harder in the weight room.
In the case of Mickelson, his strong play in Asia surely gives himself and coach Bill Self more confidence that he belongs. If all goes well on the Cheick Diallo-eligibility front, the hope is he will get the majority of the minutes at center, but having a shot-blocker coming off the bench to slow down activity around the hoop won't hurt. Diallo, Mickelson and Landen Lucas, a strong rebounder, makes for a nice three-headed center monster to complement high-scoring forwards and guards.
Self's renewed faith in Mickelson showed in the minutes column of the World University Games cumulative statistics: Mickelson 138, Lucas 112, Traylor 95, Bragg 94.
More like this story on KUsports.com