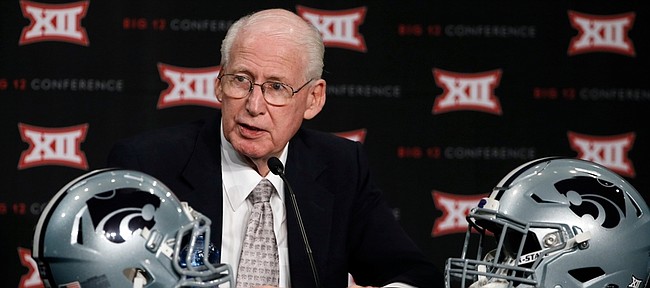 Dallas — The passion Kansas State's fan base has for legendary football coach Bill Snyder doesn't flow in one direction. As the man who turned the program around enters his 24th season coaching the Wildcats, the 75-year-old Snyder said Monday at the Omni Dallas Hotel that K-State's fans essentially helped save football at the university.
When Snyder arrived in Manhattan in 1989, he shared at Big 12 Football Media Days, Kansas State was "a step away" from dropping out of Div. I football or eliminating the program completely. Back then, the coach said, K-State only averaged about 13,000 fans a game at the stadium that now bears his name.
"There was an NCAA rule in place at the time that indicated that to be a Div. I team, you had to have an average attendance of 19,000," Snyder said.
Discussions of leaving Div. I or losing the program reached the board of regents.
"And our fans stepped up, and we went above the necessary numbers for the first season," the appreciative face of K-State football said during a morning news conference. "And every year there on out, we've grown. And we've learned to play in front of sellout crowds for quite some time now."
In 2002, USC visited Manhattan, where K-State prevailed, 27-20. USC's coach, Pete Carroll, Snyder recalled, appeared on national TV afterward and called the setting "the most intimidating crowd" in which the Trojans had ever played.
Snyder also said Monday he remains a supporter of the Big 12 having two divisions and a championship game, as was the case late in his first stint (1989-2005) with K-State. Even when the Wildcats failed to reach the conference championship game or experienced a rare losing season, Snyder, who returned to the program in 2009, said the fans remained loyal.
"In this day and age, that's somewhat rare," the coach said, "and I appreciate it a great deal."
TCU playoff talk
In 2014, TCU seemed to be in position to make the first installment of the College Football Playoff. The Horned Frogs went 11-1 in the regular season, which they wrapped up by destroying Iowa State, 55-3. But when the final CFP rankings came out, TCU was on the outside of the top four, looking in.
Asked about TCU's chances of breaking through this year, without a Big 12 championship game in place, coach Gary Patterson said he didn't feel confident about anything after the way things transpired this past December.
"For me, I think every year is different," said Patterson, whose Horned Frogs were picked as the Big 12 preseason favorites by the media. "I'm not a big believer that you have to have a conference championship. I thought the whole thing about going to a playoff was that they picked the four best teams. You didn't even have to have a championship game. That's what I was led to believe. In 33 years, I've seen different forms of how we got to a national championship in every shape and manner."
Patterson said he'll control what he can and let "all those other people" decide the playoff.
Passing league
From his days as an assistant at Texas Tech, Houston and Oklahoma State, West Virginia head coach Dana Holgorsen's name has been associated with pass-happy offenses. The fifth-year WVU coach said the Big 12 has had "tremendous" quarterbacks since he began working at Texas Tech, in 2000, when now Red Raiders head coach Kliff Kingsbury was breaking passing records.
"We're used to good quarterback play," Holgorsen said. "The main thing, when it comes to winning a championship, is guys that take care of the football … Everybody's going to have talented guys that can either run with it or be accurate and throw with it, so many good skill guys that they're going to make you look right, as well."
Air-Raid growing in popularity
Kingsbury, who played in and now coaches the spread, Air-Raid offense which will be used at Kansas this season under offensive coordinator Rob Likens, said the ability to extend plays sets successful quarterbacks apart in the system.
"I know at Houston, coaching Case Keenum, he was great at extending a play when it wasn't there," Kingsbury said. "Obviously, Johnny (Manziel) at (Texas) A&M.; You look at what Trevone Boykin does at TCU in a very similar system, moving around making plays. People have had success. Graham Harrell (Tech) was a pocket guy, Brandon Weeden (Oklahoma State)."
Quick reads from a smart QB, Kingsbury added, make all the difference in the system.