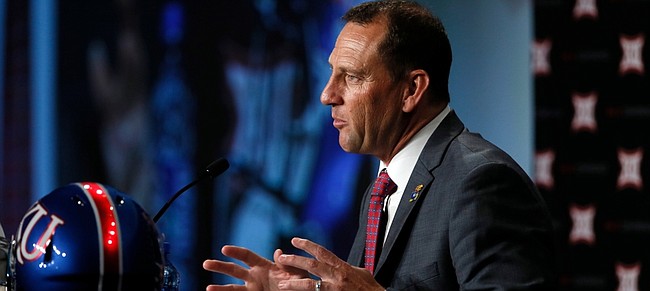 Dallas — A number of different looks, sounds and faces have represented Kansas University football at Big 12 Media Days in Dallas during the past several years. But few of them dripped the passion, excitement and enthusiasm that current KU coach David Beaty carried to the podium on Monday morning at the Omni Hotel.
"Good morning," belted Beaty with his Texas-sized twang and the energy normally reserved for game day. "How exciting it is for me to be right back here in my hometown of Dallas, Texas, representing the University of Kansas. It's an exciting time to be here at Big 12 media days with you."
If you're trying to picture it, think Will Ferrell in the locker room scene in the movie, "Old School," or even Ferrell's role as a yell leader for the fictional Spartans on "Saturday Night Live."
Beaty, who is in his first year in charge of the Jayhawks after stepping in to replace Charlie Weis — a man who made his own waves at Big 12 Media Days past — certainly was better dressed than either Ferrell character. But his posture and the fire in his words certainly carried the same relentless intensity.
Beaty's best-foot-forward persona was particularly crucial at this year's media event, where the Jayhawks were represented by a largely anonymous group of players who lacked star power and name recognition.
A year ago, KU brought Ben Heeney to Dallas. Prior to that, it was high-profile quarterback Jake Heaps and All-Big 12 running back James Sims. And the year before that, the attendance of Notre Dame transfer Dayne Crist caught everybody's attention.
While none of those names were Heisman Trophy finalists or talked about much on the national level, they all were well known in the Big 12.
Monday's Jayhawks — defensive end Ben Goodman, tight end Ben Johnson and offensive lineman Jordan Shelley-Smith — were not, and that made it even more important for Beaty to be on his game.
Not that he minded.
Since taking over back in December, the ever-personable Beaty has gotten used to talking to folks, shaking hands and smiling when he discusses "the process" that is rebuilding KU football. He never over-promises when he's doing it, but he does smile more than you might think a guy would who truly understands the tough situation into which he stepped.
"We are literally just starting our program," Beaty said. "In Year 4, we'll look back at this year and wonder how we ever ran a football play. We just will. I've been a part of it."
So, for now, he'll be the face of it. It will be his name that people kick around. It will be his résumé that people reference. It will be his positive traits that people point to when talking about KU turning things around.
"I don't think of it that way," said Beaty when asked about being the face of the downtrodden program. "But it is something that's obvious; you're right. Am I comfortable with it? Whether I am or not, I guess if that's what I have to fill right now, I'll do it. But you will not hear a lot about David Beaty. You're not gonna see my face everywhere. I fight our marketing department all the time because, at the end of the day, it's about (our players)."
And those players seem to have fully bought in to Beaty's way already.
Goodman said he had never felt better about a head coach and a coaching staff in his five-year KU career. Shelley-Smith said Beaty's arrival made things more upbeat on a daily basis. And Johnson said the passion and respect for their coach shared by the three Jayhawks in Dallas on Monday had reached every corner the locker room.
"He's done a great job in that role," Shelley-Smith said. "He's very confident, so we can be confident, and that just breeds throughout the program."
Added Goodman, when asked if he thought Beaty turned it up a notch for his inaugural Big 12 media days: "No, man. That is him all the way. That is his personality, and that's what he does. He has juice, and he has passion for this team. I compare his passion and his love to (KU defensive coordinator and former player) Clint Bowen's, and that's hard to say."
Hard to say is one thing. But Beaty seems to have that down. Hard to do is another. And with preseason camp starting in just a couple of the weeks and the start of his first season as a Div. I head coach a little more than a month out, Beaty seems to have a clear understanding that what's ahead will be much more difficult to tackle than what now is behind.
But for reasons that dabble both in the past and his optimistic future, he sincerely believes it can be done. And he wants to do it in unison with his coaches, his players and the success-starved KU football fan base.
"There's every reason to be skeptical," Beaty said. "And while I'm sure some are, they've been so supportive and that's been fun to watch.
"The secret is, there is no secret. It's hard work. Period. That's how we get there. We outwork people. That's what it takes."
More like this story on KUsports.com