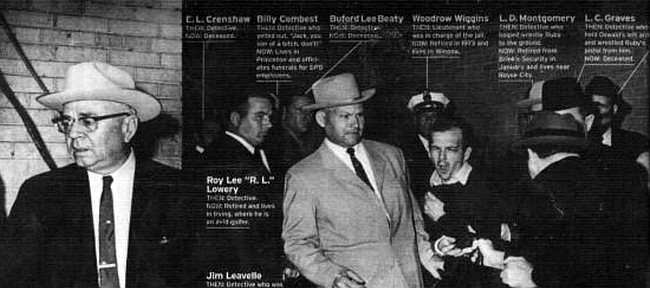 Dallas — In the city once rocked by the assassination of president John F. Kennedy, Kansas University football coach David Beaty recalled the tale of his father's eye-witness account of the murder of Kennedy's killer, Lee Harvey Oswald.
Speaking to reporters at Big 12 media days on Monday at the Omni Hotel, Beaty shared the memory of his father, Buford Lee Beaty, being almost directly behind Oswald as he was being transferred from his jail cell in the basement of the Dallas Police Department, where B.L. worked as an officer and Jack Ruby shot and killed Oswald.
"He was in line with the gun as it shot through (Oswald)," recalled Beaty, whose father is the guy behind the man in the hat next to Oswald in the picture above. "I think he kind of helped get him on the gurney but they got him in the ambulance pretty quick."
Beaty's father passed away when Beaty was 5 years old, so he does not have too many memories of his time with him. Those he does have often include his father's role as a police officer.
"He was an interesting guy," Beaty said. "He was an artist. He painted signs and that was kind of his hobby. I just remember him always carrying us around in the cab of his truck and going to see his police buddies around town."
B.L. Beaty's role in one of the most infamous moments in United States history goes far beyond simply being on the scene when Oswald was shot. He later was interviewed by federal agents about the Kennedy assassination and whether Oswald said anything about the number of shooters on hand that day outside the Texas School Book Depository in downtown Dallas.
"If you read the Warren Report, his testimony's in there," Beaty said.