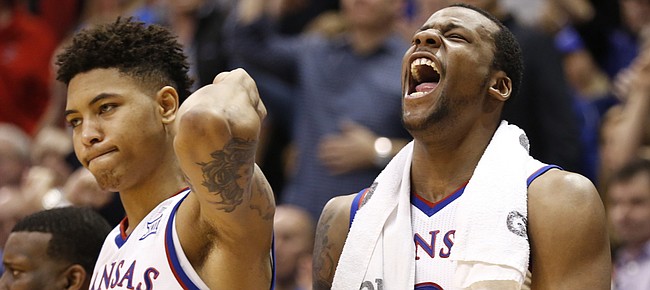 Former Kansas University guard Kelly Oubre Jr. found his shooting stroke Friday in the sixth game of his pro basketball career.
The 6-foot-7, 19-year-old New Orleans native, who was traded to Washington (by Atlanta) after being selected 15th overall in the 2015 NBA Draft, scored 30 points off 9-of-14 shooting (5-7 from three and 7-8 from the line) in the Wizards' 97-89 win over Denver in the Las Vegas Summer League.
Through five games, Oubre had made 33.3 percent of his shots (24 of 72) and was just 3-of-25 from three (12 percent).
"I know I can shoot. I have 100 percent confidence in my shot," Oubre told ESPN.com after 13-for-37 shooting in his first two games. Overall, Oubre averaged 16.8 points off 38.4 percent shooting, 25 percent from three, for the (3-3) Wizards.
Where does that confidence come from?
"Just knowing what I can do. And hard work — I work my butt off," Oubre told ESPN.
NBA.com reported that Oubre contacted his personal trainer, Drew Hanlen, and the duo worked out on UNLV's practice court at 10 p.m., last Sunday after his second pro game.
Oubre, who has come across as polite but somewhat boastful in interviews before draft night, on draft night and since draft night, has taken an aggressive attitude onto the court. He hoisted 20 shots, hitting eight, good for 20 points in his debut game against Phoenix on July 11. In Game Two, he hit five of 17 shots and scored 18 points against the D-League all-stars. He was 1-for-12 from three in those two games.
"That's what you need," Wizards guard John Wall told the Washington Post, when asked about Oubre's confidence. "These young guys are coming in more confident now, the way they're working out and having these different trainers that some people didn't get. I think just having great people around, me, Brad (Beal), those guys know how the NBA goes and we can help him out."
Of Oubre, who has a 7-2 wingspan, Wall added: "I think he's going to be great for us. I think he's somebody like Otto (Porter) but probably more athletic and able to move. Otto is more methodical, moving at his own pace."
Shoe talk: The Las Vegas Sun asked Oubre where he found those silver spiked shoes he wore on draft night.
"I got them from a Christian Louboutin manufacturer. They were pretty dope — a lot of people liked them. I stole the show with those," he said.
Of his decision to leave KU after one season he told the Sun: "It was very tough. I got off to a slow start and my numbers weren't really up there where I wanted them to be. I had a pretty solid year, though I feel like I could have done better at the college level. But now I'm dedicating myself to the game of basketball and bettering myself every day. I don't have to worry about school or anything right now. It's all basketball."
Cliff looking good: Like Oubre, former KU forward Cliff Alexander saved his best for his last NBA summer-league game with the Brooklyn Nets.
The 6-foot-8 free agent scored 14 points off 6-of-17 shooting and grabbed nine rebounds while starting Friday and playing 32 minutes against the D-League all-stars.
He had 13 points off 4-of-11 shooting with seven boards in a 75-68 win over Philadelphia. He had 10 points and six boards against Chicago and 13 rebounds and eight points against San Antonio.
Overall, he averaged 8.5 points (off 37.7 percent shooting) and 5.2 rebounds in six games in Vegas. He averaged 11.3 points in the last four games. In five games for Brooklyn in the Orlando summer league, Alexander averaged 7.4 points and 6.2 rebounds a game.
"I'm going to show people," Alexander told NBA.com's Scott Howard-Cooper in Vegas. "I just have to redeem myself. I've been the underdog before. I know what it takes to get back on top."
Since draft night, the Nets have signed former KU forward Thomas Robinson, as well as forwards Willie Reed and Andrea Bargani. If Alexander is cut by Brooklyn, he's likely shown enough to be picked up by another team.
"I was thinking I'm not good enough," he told nba.com of his thoughts on draft night when he was not selected. "Can I play this level? Was it a mistake for me to leave college? I had a lot of doubts. But I'm back confident now. I'm good."
Kaun to join Cavs?: NBA.com's John Schuhmann reports that former KU forward Sasha Kaun sat in the stands for a Las Vegas summer-league game Friday with Cleveland Cavs GM David Griffin, Cavs coaches David Blatt, Tyronn Lue and Larry Drew, plus phenom LeBron James.
Kaun played the last seven seasons with CSKA Moscow, making about $2.9 million per year. He has said he'd like to play in the NBA for Cleveland, which holds his rights from draft night, 2008. Schuhmann says the Cavs can offer Kaun about $1.3 million this season. The Cavs could trade him to a team that could pay him more.
That (money) is probably something that shouldn't be a problem," Kaun told Cleveland.com. "Hopefully coming to this team, it will give us an opportunity to win, and winning is more important to me than money. I don't think I want to do it because of the money. Just play basketball and enjoy it and play with some really great players. That's the more important thing.
"My interest level is very high. I definitely would like to play here, especially with the Cavs, you know, a team that's got a chance to win a championship," Kaun added.
More like this story on KUsports.com