Gwangju, South Korea — Whenever the United States' men's basketball team needed a basket in the final minutes of the World University Games championship on Monday, the Jayhawks turned to Kansas University junior point guard Frank Mason III. 
Every time, the fearless 5-foot-11 Mason found a way to deliver. He led the Jayhawks to a gold medal in an 84-77 thriller, in double-overtime, against Germany at Yeomju Gymnasium, marking the first U.S. gold at the games since 2005, and 14th all time. 
Mason scored 11 points in the final 14 minutes, including game-tying free throws in regulation and a game-tying layup in the first overtime. 
Trailing by two points with under two minutes remaining in the second overtime, Kansas junior guard Wayne Selden Jr. caught a pass from Mason on the left wing and drilled a three-pointer, giving the Jayhawks a 78-77 lead.
After Selden's three, which was only his second made triple in 11 attempts, SMU senior guard Nic Moore stole a pass in the backcourt, was fouled and buried two free throws for a three-point advantage. 
Photo Gallery
Team USA vs. Germany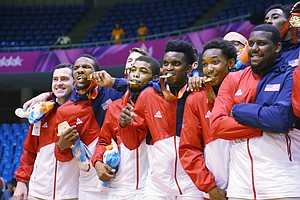 Photographs from Team USA's gold-medal game against Germany Monday, July 13, at the World University Games in South Korea.
Document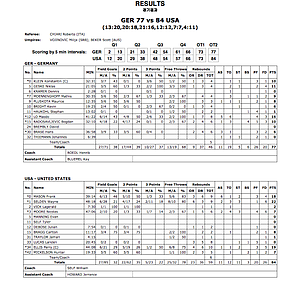 Reader poll
Carlton Bragg

2%

92 votes

Perry Ellis

1%

42 votes

Devonte Graham

0%

25 votes

Landen Lucas

0%

37 votes

Frank Mason

12%

519 votes

Hunter Mickelson

39%

1597 votes

Wayne Selden

40%

1672 votes

Jamari Traylor

0%

10 votes

Lagerald Vick

2%

90 votes
4084 total votes.
Germany turned the ball over on its next possession, then Mason hit two more free throws for a five-point lead with under 30 seconds left. Once the final buzzer sounded, Selden threw the ball into the air and the Jayhawks mobbed each other, falling into a dog pile on the sideline opposite of their bench. 
"We set a goal when we first came over here," Selden said. "We weren't really one of the favorites to win and we achieved it. We're really excited about it."
'We had a lot of pride since we stepped up off the plane," Mason added. "I told all of the guys we were going to go undefeated. I had a lot of confidence in my guys and my teammates and coaching staff. That's what we did."
In the first overtime, Mason tied the score, 73-all, with nine seconds remaining, driving left past his defender and scoring with an underhanded scoop layup. 
"He kind of got on the side of me and I just went left," Mason said. "Seeing the big guy step up, I kind of adjusted the ball and laid it up with my left hand."
Despite sitting most of the third quarter with foul trouble, Mason finished with 18 points, nine rebounds, six assists and two steals. He sunk two free throws to tie the score with 21 seconds left in regulation, and nearly won the game with a steal on Germany's last possession, but he lost the ball driving to the rim. 
"There's not too many guys around better than Frank as far as getting his shoulders past people and getting into the lane and making plays," Kansas coach Bill Self said. "He was big. Then of course Wayne missed shots the whole game, then he was big late himself. Nic didn't make any shots, then he got the key steal. To be honest, Perry (Ellis) didn't shoot the ball that well tonight, either, but just kept grinding and battling and we made enough plays to come away with a victory."
Selden finished with a game-high 22 points on 6-of-28 shooting in 48 minutes. After eight games in 10 days, Selden said he never got tired in the tournament until "the last four minutes of regulation," but he scored seven points in the final overtime. 
"I told Wayne, 'Keep your confidence. Keep shooting the ball,'" Mason said. "Because I've seen him make some big plays throughout the tournament. He's been the best player in the tournament so far, so I kind of told him to stick with his shot, trust his shot and that's what he did."
Selden added: "Everybody was saying push through. As a man, you don't get tired in those situations." 
Ellis added 19 points (6-of-21 shooting) and 10 rebounds, while KU freshman Carlton Bragg had eight points and senior forward Hunter Mickelson had seven points and five boards. Against the top rebounding team in the tournament, the Jayhawks out-rebounded Germany, 59-46. 
"They were aggressive," said Ellis, who had a black left eye after getting hit on a box out in Sunday's semifinal win. "All these teams out here were real aggressive, you know. We just had to keep battling. Missing shots, but we kept fighting and we fought through it."
Both teams had problems creating offense in the fourth quarter and overtimes. USA shot 26 percent in the second half and overtimes (13-for-50), but still found ways to win. 
"Our team really bonded and came together," Self said. "To win it the way we won it tonight against a Germany team that outplayed us in the majority of the game, and we were dead tired, no legs, no lift, couldn't make a shot. Basically just kind of willed ourselves to win late. Really proud of our guys."
With Mason's heroics on Monday, the Jayhawks stood at the top of the medal podium with gold medals around their necks. 
"It's great," Ellis said. "Just being with my teammates, a whole new experience. We worked hard. We worked hard from the first game, we stuck with it, we fought and we got the gold. It's just an honor. This just feels great."
https://www.youtube.com/watch?v=NS6KfVJrA7E
---
More from Team USA's double-overtime gold-medal victory
---