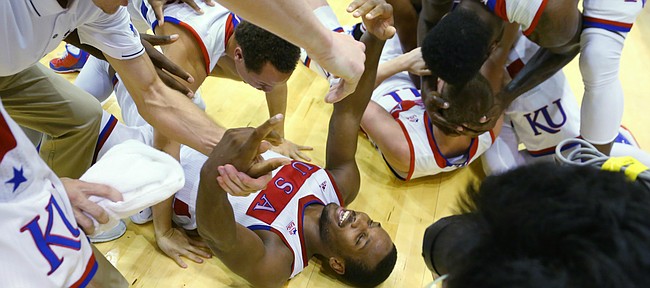 If your goal is to minimize the gold medal that Kansas-dominated Team USA won in the World University Games, you can find fodder to do so.
Many countries' top talent was reserved for the impending Pan-American Games.
Some of the players Kansas/USA faced along the way play Div. III basketball.
In terms of sheer athletic ability, running fast, jumping high and quickly, nobody stacked up with the Americans.
Blah, blah, blah.
None of that changes the fact that Bill Self's first veteran-laden team in three years won the USA's first gold medal at the World University Games since 2005. Nothing fades the shine on the gold medals worn by the athletes who competed hard and played together in routs and close games alike.
Photo Gallery
Team USA vs. Germany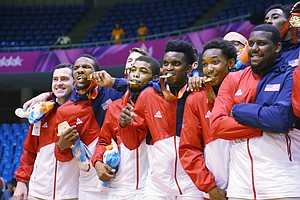 Photographs from Team USA's gold-medal game against Germany Monday, July 13, at the World University Games in South Korea.
Document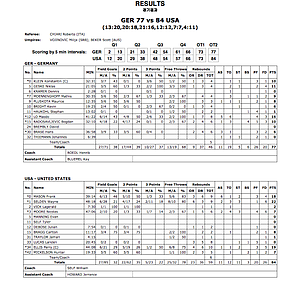 Reader poll
Carlton Bragg

2%

92 votes

Perry Ellis

1%

42 votes

Devonte Graham

0%

25 votes

Landen Lucas

0%

37 votes

Frank Mason

12%

519 votes

Hunter Mickelson

39%

1597 votes

Wayne Selden

40%

1672 votes

Jamari Traylor

0%

10 votes

Lagerald Vick

2%

90 votes
4084 total votes.
And nothing that happened in Gwangju did anything but make Sporting News' Mike DeCourcy look smart for making Kansas his months-out No. 1 team in the NCAA.
Decourcy made that pick before KU headed overseas, and it's understandable why he did it. The Jayhawks have the right blend of veterans and youth, McDonald's All-Americans and key players overlooked by blue-blood schools and national ranking services.
They won it without foreign-born, incoming freshman center Cheick Diallo (MVP of the McDonald's and Jordan Brand all-star games) and sophomore guard Sviatoslav Mykhailiuk of Ukraine, and injured guards Devonté Graham and Brannen Greene. The Jayhawks had help here and there from SMU's Nic Moore and to a lesser extent Florida Golf Coast's Julian DuBose, but they didn't make major contributions.
Team USA won the World University Games gold for the first time in 10 years because it had players who have been around Self long enough to take on his qualities and to adhere to his No. 1 instruction consistently.
If Self were paid $100 for every time he hollers, "next play, think next play," to a player in practice and games, he could earn $50 million in 10 years. He could become really, really wealthy.
It takes a tough mind to think "next play," and Frank Mason III, Wayne Selden Jr. and Perry Ellis all did a terrific job of doing so throughout the games televised by ESPNU and covered live by Journal-World reporter Bobby Nightengale Jr. and photographer Mike Yoder.
Self is a driven, smart, confident person and coach. Above all, he's a winner. His veteran leaders played driven, smart, confident basketball and became winners.
Selden, clanking shots from near and far as sophomore, looked like an athlete wearing the weight of last-play failures. He was all next play, all the time, in South Korea. Even as the competition returns to faster, quicker and in many cases more skilled than it was in Gwangju, there is no reason to believe Selden won't keep thinking next play as a junior.
Watching Mason take his man, time after time, make key free throws, always advance, never retreat, infused teammates with enough confidence to play loose in tight spots.
The emergence of Hunter Mickelson, such a force in staking Kansas to an early lead in the gold-medal, double-overtime victory vs. Germany, and an active presence at both ends throughout the tournament, helps the bench. So does the valuable experience gained by talented freshman Carlton Bragg, who need not play a lead role, rather just needs to improve every month leading up to March.
The competition grows much tougher in the Big 12 and tougher again in the late stages of the NCAA Tournament, but in terms of winning on a big stage, KU has a head start on the season. The players will enjoy looking back on winning the gold for a bit until the season starts and they turn their attention to where it was in South Korea: next play.
---
More from Team USA's double-overtime gold-medal victory
---