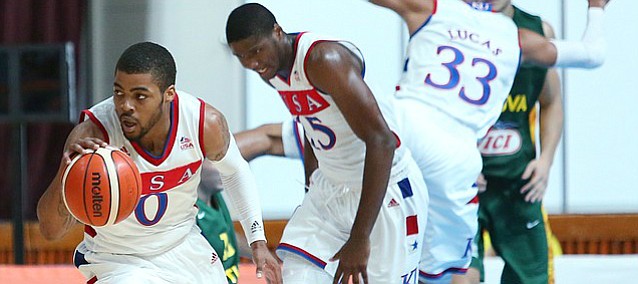 Gwangju, South Korea — Before the United States men's basketball team used its defense to create offense in the fourth quarter of its 70-48 victory against Lithuania on Saturday in the World University Games quarterfinals, the offense struggled.
In the middle two quarters, the Jayhawks shot 32 percent from the floor (9-of-28) and held a just a three-point lead.
Finding a better offensive rhythm will be a focus against Russia in the semifinals at 6:30 p.m. Sunday (4:30 a.m. CDT on ESPNU) at Dongkang College Gymnasium. Russia beat Estonia in the quarterfinals, 86-65. Germany and Brazil will play in the other semifinals matchup.
"We still didn't make shots," Kansas coach Bill Self said. "(SMU senior) Nic (Moore) didn't make shots. Wayne (Selden Jr.) probably had his worst offensive game since he's been here, but he still played well. Perry (Ellis) was 5-of-18 from the field. But I thought Hunter (Mickelson) and Landen (Lucas) really did a good job in the middle position, and I thought Frank (Mason III) played his best game since he's been here."
Photo Gallery
Team USA vs. Lithuania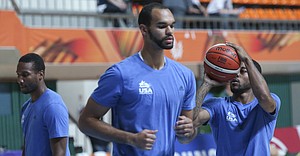 Photographs from Team USA vs. Lithuania in quarter-final game Saturday, July 11, at the World University Games in Gwangju, South Korea.
Mason scored a game-high 18 points (7-of-9 shooting) to go along with seven rebounds, four assists, four steals and two turnovers.
"They messed with us when they went 1-2-2 zone so they switched all of our ball screens," Self said. "Frank can get his shoulders past just about everybody. When he bails the defense out by not driving it, he's not near as effective. But tonight he got in there.
"He doesn't get in there as much as I want, but the bottom line is the kid is still playing 35 minutes a game. In the course of a regular season, if he's playing 30 minutes a game, more rested, I think he can really get in there."
Russia (6-0) is right behind the Jayhawks in most offensive categories, averaging 80.3 points per game along with 45 percent shooting. It swept Canada, Sweden, Montenegro, Mexico and Mongolia in pool play.
"I'm proud of the guys, proud of my teammates for doing a great job today locking in on defense, which is the most important thing," Mason said after the win against Lithuania. "We're looking forward to the semifinals."
Russia has played solid defense throughout the tournament, holding opponents to 58.5 points per game and averaging 13.5 steals.
"I personally, at this time of the year, I would rather see good offense than good defense," Self said. "But we've usually been a team that's guarded pretty well. There's a lot of pride out there guarding today. I thought our guys did a real good job because we haven't practiced on guarding anything, any actions or whatnot. I thought guys picked stuff up in the scouting report and did a real nice job."
Recruiting updates
Texas prep has interest from KU: Despite playing in the World University Games in South Korea, the Jayhawks have assistant coaches Kurtis Townsend and Norm Roberts, along with director of basketball operations Brennan Bechard, back in the States to help with recruiting.
De'Aaron Fox, a 6-foot-3 senior-to-be guard from Texas, said Kansas is one of the four schools that has shown the most interest in him.
"At this point, Kansas, Texas, Louisville and LSU," Fox told Zagsblog.com. "LSU's really come on strong in about the last two weeks. So those four I would probably say are coming at me the strongest."
Fox, a 5-star point guard who is ranked No. 9 in the Class of 2016 by Rivals.com, said the biggest factors in his recruiting will be playing time and his relationship with the head coach.
"I like the way they've played over the last couple of years," Fox said of KU. "I don't think they've had the point guards that they could've gotten. Frank (Mason III)'s played really well the last two years. Right now they're in South Korea and he's leading them in points, steals, assists, almost every category. I think if I was to go there, I don't think Frank will be there, so I think I could just kind of step into the role."
Package deal?: Michael Porter Jr., a 2017 forward from Missouri, and Trae Young, a 6-foot-1 guard from Oklahoma, play on the Mokan Elite AAU team together and have discussed playing together in college.
"That's what we'd like," the 6-foot-9 Porter told ESPN.com. Porter is ranked No. 2 in the Class of 2017 by Rivals and Young is No. 28.
According to ESPN, schools that both players are seriously considering include Kansas, Missouri, Duke and Virginia.
"Most of the schools that are going after me are going after him," Porter told Zagsblog.com. "And just seeing how we play together on the court ... we feel that it's something we want to do if it works out, of course."