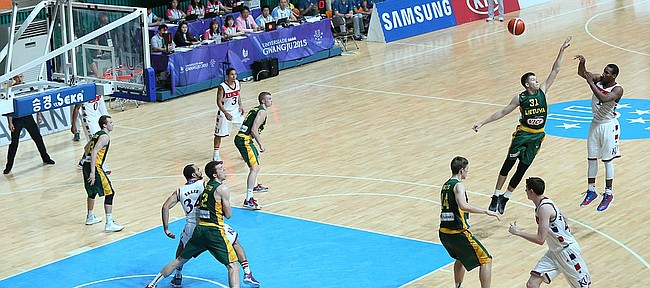 Gwangju, South Korea — After averaging 86 points per game in pool play, Lithuania couldn't get any offense going in a 70-48 loss to the United States men's basketball team on Saturday at Dongkang College Gymnasium. 
Lithuania shot 27 percent from the field (17-for-62), including 15 percent from three (4-for-27). It led the tournament in pool play with a 38-percent three-point percentage. 
"They were just executing probably," Lithuanian center Egidijus Mockevicius said of the U.S. defenders. "I'm just sad now. It hurts a lot. It happens." 
Lithuania trailed, 43-42, with 59 seconds remaining in the third quarter, but didn't score another point until Paulius Dambrauskas banked in a shot with 4:42 left, trailing 58-44. Then Lithuania ran into another scoring drought, adding its next basket in the final 30 seconds. Lithuania was outscored in the fourth quarter, 25-6.
Photo Gallery
Team USA vs. Lithuania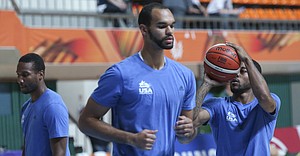 Photographs from Team USA vs. Lithuania in quarter-final game Saturday, July 11, at the World University Games in Gwangju, South Korea.
"We weren't making open shots," said Mockevicius, a senior at the University of Evansville who had two points and five rebounds in 18 minutes. "We were setting screens and did everything that we could, but we just weren't making them. I bet it's just a bad day or something. You can't do anything about it." 
Mockevicius said Lithuania wasn't bothered by the Jayhawks' physicality, despite shooting 2-for-19 (11 percent) in the fourth quarter. 
"I wouldn't say it was something tough, but we knew they were going to come together and trap us," Mockevicius said. "We were trying to base our game on the three-point line because we have good shooters, but as I mentioned before, it wasn't going in." 
---
More from USA-Lithuania
---