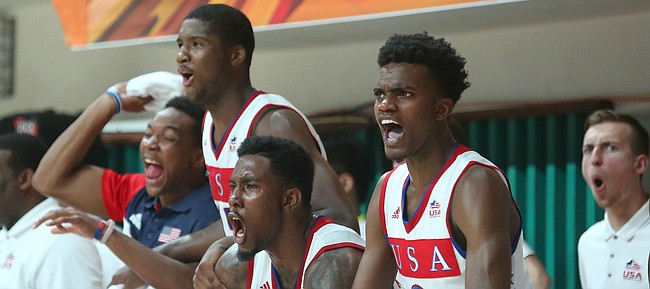 Gwangju, South Korea — With six minutes left in the third quarter against Switzerland on Thursday, Kansas University senior forward Hunter Mickelson sprinted to mid-court for a loose ball. 
It didn't matter that the United States men's basketball team had already secured a spot in the World University Games quarterfinals. It didn't matter that the Jayhawks had a 25-point lead on their way to a 96-57 victory at DongKang College Gymnasium. Mickelson wasn't giving up on the play. 
Mickelson dove for the ball, took it from a Swiss player and passed it to SMU senior guard Nic Moore. Once Moore had the ball, he floated an alley-oop to KU junior guard Wayne Selden Jr., who slammed it home with two hands. 
That was in the middle of an 18-0 run in the beginning of the third quarter to turn the game into a rout, as the U.S. took a 69-35 lead. Selden had three dunks in the stretch, and he assisted on a dunk for Mickelson. 
Photo Gallery
Team USA v. Switzerland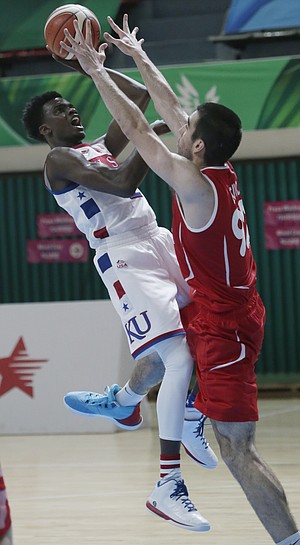 Photographs from Team USA game against Switzerland Thursday, July 9, at the World University Games in South Korea.
"It was just a hustle play — 50-50 ball," said Mickelson, who finished with six points and four rebounds. "I knew I kind of had a chance to get it, and kind of where we were on the court. We were already more than halfway down toward our end. I knew if anybody was behind me I'd at least give them a good chance of getting a layup out of it." 
Selden scored eight of his 16 points (7-of-8 shooting) during the 18-0 run and added two assists. KU senior forward Jamari Traylor added a dunk and junior point guard Frank Mason III drained a three-pointer. 
The Jayhawks shot 59 percent from the floor (41-of-70), including 59 percent from deep (10-of-17). They led 23-8 in the first quarter before the Swiss went on a 16-5 run. 
After Switzerland cut the margin to 29-24 with 7:43 left in the second quarter, Moore drained a three-pointer to begin a 22-9 run for the rest of the half. KU senior forward Perry Ellis scored all 11 of his points in the first two quarters (5-of-7 shooting). 
"I thought we were tired to start, but the guys started having fun," Kansas coach Bill Self said. "It's a lot easier to play when you make shots. We shot it so bad yesterday. Today the guys were relaxed and it seemed like they made just about everything they threw up there."
Florida Gulf Coast senior guard Julian DeBose, who finished with a team-high 18 points, including three buzzer-beaters added: "Of course, coach got us on a little bit. When we get in the game we can't let the team fall out, we have to pick the team up. I did my best. Next time I got in, I changed that." 
After a three-pointer from Switzerland's Florian Steinmann snapped USA's 18-0 run in the third quarter, the Jayhawks continued to pour it on with dunks and easy baskets. 
"That was crazy," Kansas freshman forward Carlton Bragg said of the dunks. "That's just how it was. We just played the game. Everything just fell in place."
DeBose, Bragg and KU freshman guard Lagerald Vick combined to score the last 12 points of the third quarter. 
"Coach just came in there," Bragg said, "'Have a lot of fun. We're thinking too much. Just play the game. Don't play to the competition. Just play the game.' We came out and had fun."
The U.S. earned a spot in the World University Games quarterfinals with its victory over Serbia on Wednesday. The Jayhawks will play Lithuania at noon Saturday (10 p.m. Friday CDT). Friday's game will be broadcast by ESPNU.
"We're ready," DeBose said. "This is what we came for: to win a gold medal. We've been preparing for this the whole time. We're just glad we came out of pool play the No. 1 seed, now we're ready for whoever else is up next."
"We're not exactly perfect by any stretch," Self added, "but I think our mood and our mindset is about as good as you can hope for."
---
More from USA-Switzerland
---