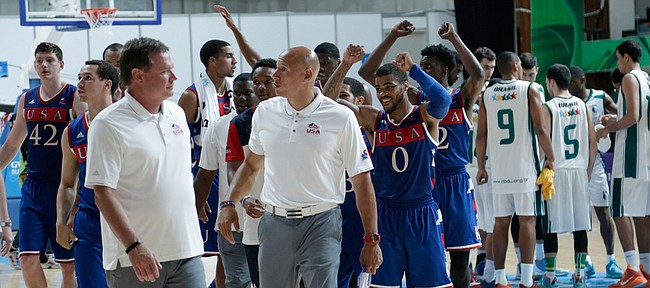 Gwangju, South Korea — With one of the busiest months of college basketball recruiting underway, Kansas University men's basketball coach Bill Self is confident the Jayhawks won't miss a beat while he coaches abroad.
The Jayhawks have assistant coaches Kurtis Townsend and Norm Roberts and director of basketball operations Brennan Bechard out recruiting while Self and assistant coach Jerrance Howard are with the team in Korea.
"Kids do want to see the head coach, at whatever respective school, there," Self said prior to Team USA's game against Chile at 2:30 p.m. Tuesday (12:30 a.m. Tuesday CDT). "But we talked to our guys. They know that we're over here. I don't think it'll be a huge deal. Although it's certainly not an advantage, I don't think it'll be a big disadvantage."
Photo Gallery
Team USA attends USA women's game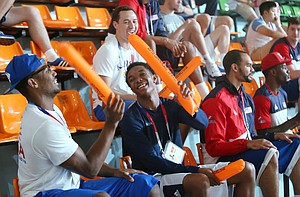 Photographs of Team USA from Monday, July 6, including their attendance at a USA women's game.
As soon as Self and Howard return from Korea, they plan to hit the road to recruit.
"Jerrance is actually leaving from Detroit (before a connecting flight back to Kansas City) to go and I'm going to go home and leave out the next day," Self said. "Basically Jerrance will get out on Wednesday (July 15), but I won't get out until Thursday (July 16)."
The Jayhawks have played their games on national TV on ESPNU, but that doesn't necessarily mean they're getting an edge in recruiting.
"I don't know if it helps a lot because all the recruits are somewhere else playing," Self said. "You've got all the kids in the under-19 games that we're recruiting and you have different camps going on. But I do think this: If we're fortunate enough to advance, I think it'll start gathering some attention and a lot of eyes will be on what we're doing.
"Winning a medal in these games would really, I think, help our recruiting quite a bit."
Ellis good to go
KU senior forward Perry Ellis sat out most of the second half of USA's 81-72 victory against Brazil with a sore ankle, but he said he's ready to return to the court for Tuesday's game.
"Oh it's good. It's real good," Ellis said. "I just kind of landed weird, just kind of tweaked it a little bit and it got a little sore. It's good now, though."
With an off day on Monday, Ellis had extra time to rest his ankle.
"It's helping a lot," Ellis said. "Got a couple of treatments in it and stuff, and just be good to go tomorrow.
"It's huge. Off days are always good for us. We're playing a lot of basketball, so a lot of it is getting rest today and I feel like we should be good to go."
Mason deals with sore wrist
KU junior point guard Frank Mason III has played through a sore right wrist since injuring it in an exhibition game against Canada at the end of June.
"It's been hurting a lot but I've been playing through it," Mason said. "Just been getting a little bit of treatment. It's getting better each and every day."
Mason has struggled shooting the ball in the World University Games, combining for 6-for-19 from the field and 0-for-7 from three in two games.
"Usually hurts when I follow through on my shot," Mason said. "Not when I dribble or anything. Sometimes like when I fall, maybe I fall on it again. It just hurt throughout the game."
Despite the sore wrist, Mason nearly finished with a triple-double in the 81-72 win against Brazil on Sunday. He had 15 points, eight rebounds and seven assists. He said he isn't changing any parts of his game because of the pain.
"Not really, I just try to do a little bit of everything," Mason said. "Not making an excuse or anything for my wrist because it'll be fine. It's just a little sore. It's not affecting my shot. It's not affecting my ball handling, nothing. It hurt a little bit. I'll be OK, though."
Along with playing through a sore wrist, Mason got an extra rest for his legs with the off day Monday. He's played at least 35 minutes in both games over the weekend.
"Playing back-to-back games is always tough, but definitely playing 36 minutes is making it more tougher," Mason said. "But you know, it's all in your mind. If you think positive, you'll be OK.
"It's great to have an off day. Get our legs back under us. Got a nice massage so we'll be feeling good for tomorrow."
Jayhawks adjust to different basketball
There's a slight difference between basketballs used for FIBA international games and in the NCAA.
In the NCAA, the max circumference is 30 inches and it's only 29 inches in the international games. At the World University Games, teams are using balls made by Molten.
Can the players tell the difference?
"A little bit. But the balls are actually pretty good, I feel," Ellis said. "I mean it's not really a major difference. I feel like we've adjusted to it really well."
Point guard Mason said he's definitely noticed a change in basketballs.
"For me, it is. It's a lot different," Mason said. "Just the feel of it — the grip — it's different than the ones I'm used to playing with. Just a little drip of sweat could change my shot or anything like that. But we've been practicing with it and playing it so we've adjusted to it now.
"Maybe one or two drops of sweat could get the ball slippery where I wouldn't have as much control as I would with the other balls that we're used to playing with."
Off-day cheerleaders
After eating lunch at Outback Steakhouse, the Jayhawks traveled to DongKang College Gymnasium to cheer on the United States women's basketball team.
The USA women beat China, 90-75, improving to a 2-0 record.
"It's great, man," Ellis said. "We're just out here to experience different things, watch other teams play when we don't have nothing. It's all about experience and it's going great so far."