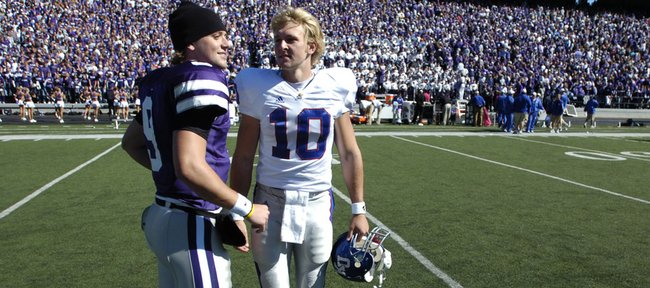 Gwangju, South Korea — Eleven months ago, former Kansas University football standout Kerry Meier traveled to Korea to teach English to Korean students.
He was chasing a dream. His brother's dream.
Meier's older brother, Dylan, died in 2010 at the age of 26 after falling from a cliff while hiking with his family in Arkansas. Later that year, Dylan Meier, a former Kansas State quarterback, was set to begin teaching English near Seoul, Korea.
"Since his passing, it's been kind of my adventure and kind of my — I wouldn't call it pursuit — motive to go and do things that he never quite got to fulfill," Kerry Meier said. "This is one of the things that kind of blessed me at a crossing point in my professional life and it gave me that opportunity to come here and do this."
Meier, who split time at quarterback and receiver with the Jayhawks during his five-year career, is under contract with the International Language School, along with his girlfriend, Alexandria Martinez. They live in Jeonju, South Korea, about an hour north of Gwangju, where the Kansas men's basketball team is representing the United States in the World University Games.
In the morning, Meier teaches kindergartners before elementary school students visit in the afternoon. He said the differences between Korean and Western educations has been "really neat" and has taught him "to work towards other things in life other than just sports."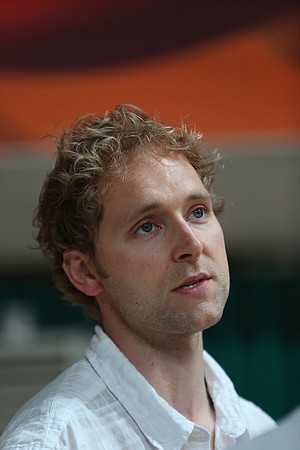 "I've grown in so many different ways that I never imagined," Meier said. "It's been entirely a lot of fun doing it, as well. Learned a lot. Wouldn't change it for the world. It's been a blast being here and getting to do this experience, especially like my standpoint and our standpoints in our lives."
Meier owns KU school records with 102 receptions in a season, 226 in his career and 16 in a game. He helped the Jayhawks to an Orange Bowl title in 2008.
A fifth-round pick by the Atlanta Falcons in the 2010 NFL draft, Meier battled multiple injuries throughout his career before being waived by Atlanta in 2013.
"It's been exactly what both of us have been looking for because finishing football, looking to do something entirely different," said the blonde-haired, charismatic Meier. "Kind of get away from the physical aspect of sports."
Meier will return to the U.S. in about a month. His girlfriend is planning to enroll in graduate school at New York University, studying international studies. Meier will take online courses toward a nutrition degree before beginning graduate studies at Lipscomb University in Nashville, Tennessee, in December 2016.
"The goal right now is to complete my graduate degree in nutrition and then the whole world of becoming a registered dietician," Meier said. "My goal is to get back into college athletics and I'd love to become like a college nutritionist in a college athletics program."
Meier and Martinez bused to Gwangju on Sunday to watch the Jayhawks beat Brazil, 81-72. He found out the Jayhawks were playing in Gwangju from a friend recently.
"He was like, 'You know KU is coming by.' I was like, 'Get out of here,'" Meier said.
"To see them 45 minutes away, 6,000 miles away all the way across the world, it's so weird but obviously it's great to see some crimson and blue."
With the 14-hour difference from Lawrence time in Korea, Meier hasn't been able to watch football for the past year, but he still tries to stay updated on the Jayhawks.
"It's been a rough past few years watching it, but I'm always hopeful," Meier said. "I stay in contact with obviously a lot of guys that I played with. We're all on the same page.
"We're trying to do something new and with coach (David) Beaty kind of having a taste of success when he was there at Texas A&M.; hopefully we can put a bunch of that together and just get things going back in the right way."
Eleven months into his adventure, fulfilling his brother's goals, Meier takes his brother's memory to places he wished his brother could've gone. He wrote in a blog post in April, "In my quest to fulfill my life's ambitions I have one that I want to hear when I see him again. 'Brother, I'm proud of you.'"
The youngest of four boys, Meier continues to walk down life's path with his brother in mind.
"It's really odd but here we are five years later," Meier said. "We've been able to do big things in his memory. We created a foundation (Get Busy Livin') that's been able to be very beneficial to a lot of different organizations and different kids with scholarships.
"Our main objective is to be able to tap into groups that are kind of curious about building character in different ways. We've been able to do a lot of different things, and bigger and better things as we continue to grow.
"It's just been a lot of fun. It's been a blessing to just be a part of it."