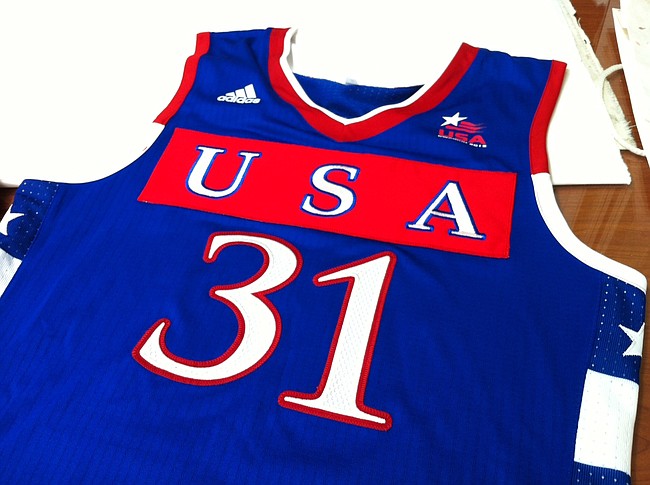 Gwangju, South Korea — The Kansas University men's basketball team had a new look when it represented the United States in a 81-72 victory against Brazil in the World University Games on Sunday.
After FIBA requested that the jersey put "USA" in a bigger role, the Jayhawks put a red patch with a white outline for the letters "USA" across the front of their blue jerseys.
"FIBA asked us to enhance 'USA' on our jerseys and we gladly did it," Sean Lester, KU Deputy Athletics Director said.
If the Jayhawks didn't change their jerseys, they could have been forced to forfeit games by rule. The team wore red "Kansas basketball" t-shirts in warmups with a Jayhawk logo below it, but were told to remove the shirts because they didn't say "USA." After retreating to the locker room, the Jayhawks wore their game jerseys for the final 30 minutes of their warmup.
"It was obviously something that was told that we had to do, which is fine," KU coach Bill Self said. "Even though we were given the clearance that our uniforms were good when went through the whole process earlier. I think it's fine that we have USA on there. And we should. This is a USA event. It's not a Kansas event, even though we're representing the school.
"I think it's fine and props to the seamstress. We found out yesterday that we'd be forfeiting games if we didn't make it more prevalent so certainly he or she did a great job with that."
The new jersey will remain for the rest of the World University Games. The Jayhawks went to a local shop in Gwangju for their new jerseys. They dropped them off on Saturday night and picked them up around noon Sunday.
"We went locally," Lester said. "The head of delegation that we're working with, Craig Jonas, they had somebody locally working with other uniform challenges. So that gentleman, I don't know his name, but wow. He did a great job because when you see them, they look great. USA is loud and proud and that's the way it should be."