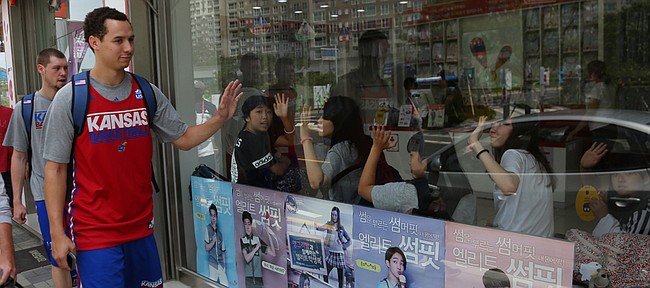 Gwangju, South Korea — With no practice gyms available on Friday, Kansas University men's basketball players went outside for their final walk-through prior to their start in the World University Games. 
The Jayhawks practiced at Hwangdeok Middle School in Gwangju, South Korea, then hosted a short clinic on ball handling, passing and shooting for middle school students. 
Team USA will face Turkey in its first game at noon Saturday (10 p.m. Friday CDT) at DongKang Gymnasium. ESPNU will broadcast the game.
"It was fun coming out here showing the guys what we can do," Florida Gulf Coast senior guard Julian DeBose said of the clinic. "Showing them what they can work for if they love basketball. It was just good, you know, always giving back and putting a smile on another person's face."
Photo Gallery
Team USA practices on an outdoor court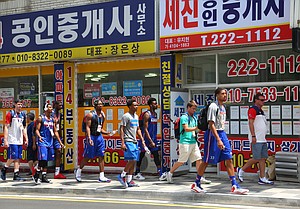 Team USA walked from Athletes Village to a nearby outdoor high school court for practice in Gwangju Friday, July 3.
The idea of the outdoor practice and clinic started when assistant coach Fred Quartlebaum saw the school and courts while on a walk. It's located a few blocks outside of the athletes village. 
KU coach Bill Self went back with Quartlebaum to take a look at the school and was sold. On the main court, the rims were bent and appeared to be shorter than the regulation 10 feet. KU practiced plays on the main court but didn't shoot. Instead players just dunked to the delight of the students watching on the sidelines. There were two hoops on the side, back-to-back instead of on opposite ends of the court, where the Jayhawks put some shots up.
"We walked over here and we were going like, 'This is nicer than driving an hour or being an hour in a car,'" Self said. "But today there were no practice times available. … I don't know if I've seen a nicer school from the outside, though. What an unbelievable setting."
http://www.youtube.com/watch?v=o0TZb1GpRCk
More than 100 kids showed up to watch at various points of the walk-through and about 30 went through the clinic.
"It's nice," KU sophomore Devonté Graham said, who is sitting out the World University Games with a quad injury. "We enjoy it. They enjoy it. It's just fun being around them and seeing how excited they get."
The Jayhawks had two hourlong practices this week, a short walkthrough Friday and scrimmaged against China on Thursday. Team USA won the scrimmage 93-56. 
Photo Gallery
Gwangju World University Games opening ceremony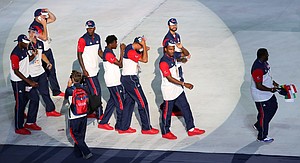 Photographs from Gwangju Universiade Main Stadium and the opening ceremony of the 28th World University Games July 3 in Gwangju, South Korea.
"I worry that we haven't really done as much as I'd liked since we've been here," Self said. "We've basically had only three hours to practice since we've been here. I think we're doing OK. But I worry about our conditioning and things like that. But the guys will be fine. Nobody else got a chance to practice or shoot today so it's a level playing field."
After arriving in Gwangju on Tuesday morning, the Jayhawks are ready to start playing games.
"We've been working hard," DeBose said. "I think we're ready to get out there. Whoever is in front of us, we're going to go 110 percent and give them everything that we can, hopefully coming out with a win."
After the walk-through, the Jayhawks joined the rest of the teams from the U.S. to walk together in the opening ceremony at Gwangju Main Stadium.
At the opening ceremony, several Korean musical artists performed and all 143 countries participating in the World University Games were announced and took a lap around the stadium. South Korean President Park Geun-hye attended the ceremony and former Major League Baseball pitcher Chan Ho Park, the first South Korean to play in the Majors, lit the cauldron alongside Yang Hak-seon, a South Korean Olympic gold medalist in gymnastics.