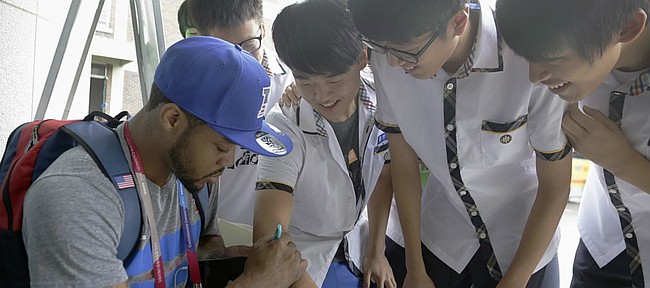 Gwangju, South Korea — After a 10 a.m practice on Wednesday morning, Kansas University men's basketball players used their free afternoon to spend time in the city of Gwangju.
The Jayhawks walked around downtown and danced to music on the sidewalks.
"It was fun," KU junior forward Landen Lucas said. "We had a good time. We got a chance to see the city a little bit and have fun. It's nice. I feel like we're going to continue to have fun and just enjoy our time out here."
The Jayhawks have documented parts of their trip on mobile photo-sharing app Instagram (@KUinKorea), including their trip downtown.
"We got to explore," KU freshman forward Carlton Bragg said. "It was pretty good. I didn't know they had American stores like H&M;, Popeyes. I saw Popeyes and I was amazed. We need to go back there, though."
Lucas sees similarities in culture: Lucas was born in Tokyo and lived there for the first three years of his life while his dad, Richard, played basketball professionally.
Lucas went back to Japan in middle school for about a year and a half, and he said it's been a "pretty easy" adjustment for staying in Korea.
"A little bit," Lucas said of the similarities between cultures. "There's some (things) that I can tell they have a lot of similarities but hopefully we get to play the Japan team and I can talk to them a little bit."
"I don't know if anything surprised me yet," Lucas added. "The people are real friendly. Then the one thing that I guess you could say surprised me is how big this event is. I didn't really know too much about it. Coming out here, I can tell that it's a big deal out here."
Self impresses high schoolers: Prior to Team USA's first practice in Korea at Gwangju High, KU coach Bill Self made six straight shots around the left elbow, about one step in front of the three-point line.
More than 100 high schoolers were in attendance and cheered on every made basket, yelling a louder, "Whoooa!" after each shot.
"I wasn't keeping count but I think it was six in a row," said a smiling Self. "But I wasn't keeping count. You know, I missed about 12 in a row to get started. But the camera doesn't lie, so that's good."
Adjusting to fast shot clock: The Jayhawks had no problems with the 24-second shot clock in their 93-56 victory during their scrimmage against China on Thursday.
They didn't have any shot clock violations and didn't have many moments where they were rushed into a last-second shot attempt.
Informal scrimmage: Thursday's scrimmage against China, which USA won 93-56, was without officials, game clocks and used a flip card scoreboard.
"I actually went to the bathroom in between quarters," said Self, laughing. "That's the first time I've done that in a pretty long time, so that's pretty cool. There's advantages to scrimmaging, I guess."