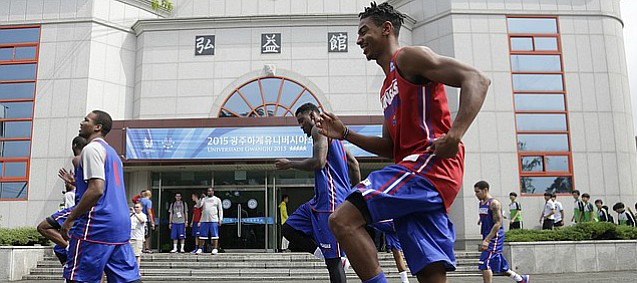 Gwangju, South Korea — Kansas University men's basketball coach Bill Self wanted to raise the intensity at practice on Wednesday morning at Gwangju High, the second practice in South Korea for the Jayhawks.
They completed that goal, but it wasn't without a few hiccups.
There were some issues with a slick court. Windows were open, and the humidity forced people to wipe the floor constantly with towels.
But the biggest setback happened when KU freshman Carlton Bragg broke his nose about 30 minutes into the hourlong practice. Bragg isn't expected to miss much time, but the Jayhawks are already short-handed without sophomore guard Devonté Graham (quad) and junior guard Brannen Greene (hip).
"We were more intense today," Self said. "We were better. The floor is not very good. This isn't where we're playing our games, but you can't play too hard on this because somebody will get hurt. Then unfortunately today, Carlton broke his nose. We'll see how long he's going to be out of pocket with that. Hopefully he won't miss anything. But it was better today."
Photo Gallery
Team USA practice July 1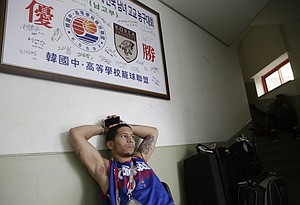 Photographs from a Team USA practice at Gwangju High School Wednesday, July 1, 2015. Team USA will play an exhibition game against China on Thursday, July 2.
The Jayhawks warmed up in the street prior to their practice because Serbia was in the gym beforehand. Team USA faces Serbia at noon on July 8 (10 p.m. July 7 CDT). Teams can only practice on the court for an hour, so stretching beforehand saves precious time.
"Maybe not since I was in AAU when I was like 16 or 17," KU senior forward Jamari Traylor said when asked the last time he warmed up in the street. "We just had to do anything. But, hey, stuff happens. You have to make the best of it."
In their second practice, the Jayhawks tried to push the pace as much as they could, splitting between guards and forwards to separate sides of the court before joining to play offense and defense against each other.
"It was good," SMU senior guard Nic Moore said. "Just a little hour. Try to get our sweat up and work out. I mean, guys are still trying to get to used to the time change and all that. But we just need to get out here and have fun. My motto on the team is just be a leader, get guys hyped and have fun, you know what I mean."
The practice was more crisp than USA's first practice on Tuesday, though some players are still feeling the effects of jet lag.
"Yesterday, we were a little more sluggish than today," Traylor said. "Today we got going a little bit more. Getting used to the timing and everything, the sleeping change and everything. It's a little bit of an adjustment, but we'll be good."
"I think that we were still tired, though," Self said. "But this is the first day that I've actually felt normal. So I know it's the first day. The guys obviously feel better today. We'll be even better tomorrow. We should be close to being back on the right schedule by tomorrow."
The Jayhawks will scrimmage against China at 5 p.m. Thursday at a different local high school to avoid the slippery court at Gwangju High.
"I think it'll be good," Self said. "I think it'll be great for us to kind of give us an idea of where we are. Playing Canada in Kansas City, it was so comfortable. Here it's not as comfortable, you have different surroundings. So hopefully guys will react well. But we have to find a court that we can play on that we can actually play without somebody getting injured because of how slick it is."
Traylor added: "It's what we came here for, to play games. I'm sure it will be a good game and we'll have fun doing it. Just excited to go out there."
Team USA opens pool play versus Turkey at noon Saturday (10 p.m. Friday CDT) at DongKang College Gymnasium. Friday's game will be broadcast in the United States on ESPNU.
---
Moore celebrates birthday
Moore was celebrating his 23rd birthday on Wednesday. He didn't have plans to do anything special, but was happy to enjoy the day with his new teammates.
"It's an honor, man," Moore said. "To be able to play in the University World Games in a whole different country. I mean, I'm blessed. I don't have no complaints spending my birthday over here. I like doing things like this, going into a new culture and just living life with no worries and just having fun.
"It's always fun to get birthday wishes and hang out with the guys and stuff. I kind of wish I was with my family but I'm doing something that I love so I'm not mad."
---
Kansas in Korea: Exclusive coverage of KU basketball at the World University Games from KUsports.com's Bobby Nightengale and Mike Yoder, who are on the ground in South Korea.