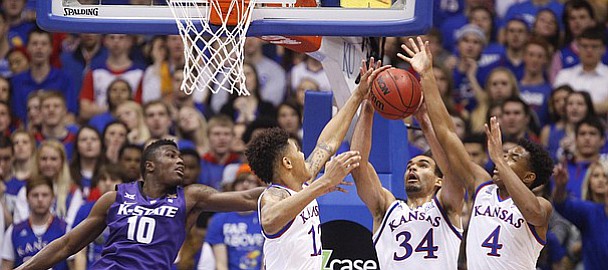 Photo Gallery
Kansas basketball v. Kansas State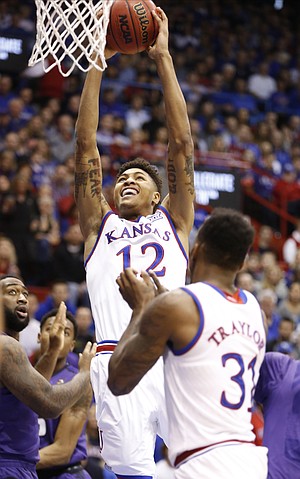 Images from Saturday's game between the Jayhawks and Wildcats at Allen Fieldhouse
Podcast episode
Kansas basketball coach Bill Self discusses the Jayhawks' Saturday home win over rival Kansas State, and wonders why KU can look very different on the floor at various portions of the same game.
Podcast episode
Kansas basketball players Perry Ellis, Wayne Selden Jr. and Kelly Oubre Jr. address the media following the Jayhawks' Sunflower Showdown victory against Kansas State on Saturday at Allen Fieldhouse. Selden says KU took some small steps in the right direction, but the Jayhawks will have to be better on Big ...
KANSAS 68, K-STATE 57
If Saturday's 68-57 victory over Kansas State by the Kansas University men's basketball team at Allen Fieldhouse seemed familiar, it's because you've probably seen it before and could've just popped in a replay of a dozen other previous meetings between these two at KU's home gym.
Like so many other Sunflower Showdown match-ups in Lawrence during the past couple of decades, the Jayhawks jumped all over the Wildcats in the first few minutes and never looked back.
K-State (12-10 overall, 5-4 Big 12) opened the game shooting just 9 percent from the floor during the first 9 minutes and KU, which continually got dunks and layups during that stretch, built a 20-5 lead and had the home fans rocking.
By halftime, KU's lead was up to 33-17 and the Jayhawks cruised home from there on a day when several former Jayhawks — Greg Ostertag, Scot Pollard, Eric Chenowith, Tyrel Reed, Sherron Collins, Darnell Valentine and Calvin Thompson to name a few — and a handful of Kansas-City-area sports stars (Royals stars Mike Moustakas, Eric Hosmer, Salvador Perez and Chiefs linebacker Derrick Johnson) were celebrated for their presence in the Fieldhouse.
Perry Ellis led KU (18-3, 7-1) with 16 points and 12 rebounds, while Brannen Greene added 11 points (on 3-of-4 shooting from three-point range), Kelly Oubre Jr. chipped in 8 points and 9 rebounds and Wayne Selden Jr. added 13 points.
Here's a quick look back at some of the action:
• The game turned when: The calendar turned to Saturday, Jan. 31. K-State has a solid team and has proven that on more than one occasion this season. But there's just something about the Wildcats coming into Allen Fieldhouse that makes life tough on the guys from Manhattan. Add to that general fact the reality that KU just played a terrible game a few nights earlier at TCU, and this outcome was pretty easy to predict.
• Offensive highlight: On a late drive to the rim, which started with yet another close miss by Selden, the athletic guard who has struggled to knock down shots near the rim this season, twisted his body to get one hand on the rebound and knocked in his own miss without ever landing after the initial shot.
• Defensive highlight: With 6:50 to play in the first half and KU in total control, sophomore Selden made sure it stayed that way when he flew in the air, hung there for a while and swatted a shot by K-State's Justin Edwards. Both players hit the deck and Selden came up off the floor with that icy glare that fires up the fans and his teammates.
• Key stat: Field goal percentage. The teams took about the same number of shots, but KU was far more successful with theirs. The Jayhawks shot 45 percent from the field on 58 attempts and K-State shot 33 percent from the field on 60 attempts.
• Up next: The Jayhawks return to Allen Fieldhouse on Monday night for a rematch with Iowa State at 8 p.m. at Allen Fieldhouse. The Cyclones handed KU their first Big 12 loss of the season Jan. 17 in Ames, Iowa.
— See what people were saying about the game during the KUsports.com live blog.
---
More news and notes from Kansas vs. Kansas State
---
More like this story on KUsports.com