Saturday, January 31, 2015
Photo Gallery
Kansas basketball v. Kansas State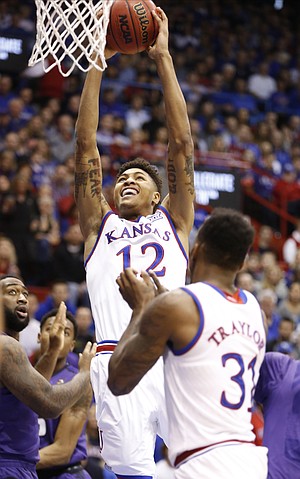 Images from Saturday's game between the Jayhawks and Wildcats at Allen Fieldhouse
Podcast episode
Kansas basketball coach Bill Self discusses the Jayhawks' Saturday home win over rival Kansas State, and wonders why KU can look very different on the floor at various portions of the same game.
Podcast episode
Kansas basketball players Perry Ellis, Wayne Selden Jr. and Kelly Oubre Jr. address the media following the Jayhawks' Sunflower Showdown victory against Kansas State on Saturday at Allen Fieldhouse. Selden says KU took some small steps in the right direction, but the Jayhawks will have to be better on Big ...
KANSAS 68, K-STATE 57
A group of former Kansas University basketball players cheered from the stands during the Jayhawks' 68-57 victory over Kansas State on Saturday in Allen Fieldhouse.
Jayhawks on hand included: Eric Chenowith, Sherron Collins, Mario Little, Greg Ostertag, Scot Pollard, Tyrel Reed, Niko Roberts, Wayne Simien, Conner Teahan, Billy Thomas, Calvin Thompson and Darnell Valentine.
Collins and Little visited the KU locker room after the game.
"I wanted them to come listen to my speech, so maybe they could put their two cents in, which they did," coach Bill Self said with a smile.
Collins stressed to the team it could play harder than it did Saturday.
"Yeah, like he never took a possession off, either," Self said, smiling. "Isn't it amazing when you are gone ... Sherron only remembers how hard he played all the time and I was on his butt just as much as I was everybody else.
"Rio only remembers, 'I never did that.' 
"'No you did that all the time.'"
Faces in crowd: Kansas City Royals players Eric Hosmer, Mike Moustakas, Salvador Perez and Jerrod Dyson also attended Saturday's game.
---
More news and notes from Kansas vs. Kansas State
---