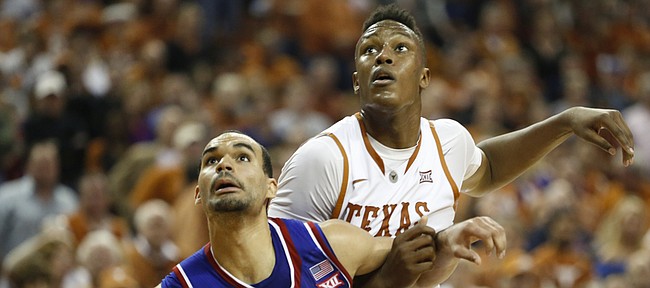 Wichita native Perry Ellis has followed the Kansas-Kansas State basketball rivalry — better known as the Sunflower Showdown — for a very long time.
"I remember in middle school watching a lot of them, early high school, too," Ellis, KU's junior forward from Brooks Middle School and Wichita Heights, said of games in a series that KU leads 187-92 entering today's 1 p.m. clash in Allen Fieldhouse.
"Being a hometown kid, it puts a lot into the game, something you really get excited for. Intense games on both sides, away and home, it's just exciting," Ellis added.
KU, which takes a 17-3, 6-1 record and No. 9 national ranking into today's game against the 12-9, 5-3 Wildcats, has steamrolled to 48 victories in the last 52 outings. The Jayhawks have won six of the last seven and 13 of the last 15.
KU is riding an eight-game winning streak over KSU in Allen and possesses a 44-18 all-time mark against KSU in the tradition-rich building.
Podcast episode
Kansas basketball coach Bill Self gets into the benefits of having rivals in your conference while previewing Saturday's game against Kansas State, at Allen Fieldhouse. Self says the Jayhawks respect the Wildcats, which is different than the pure dislike KU used to have toward Missouri.
Podcast episode
Outrebounded 50-40 at TCU on Wednesday night, the Jayhawks have turned their attention to the boards at recent practices, according to Kansas junior forward Jamari Traylor, who also talks about his hustle plays during a media Q & A.
Podcast episode
Kansas junior forward Perry Ellis, a native of Wichita, talks with media members about the importance of the Sunflower Showdown rivalry with Kansas State. Plus, Ellis gets into KU's rebounding and fellow starting forward Jamari Traylor's hustle plays.
"It means a lot," Ellis said of today's game between the first- and fourth-place teams in the Big 12. "Two Kansas teams that are real good teams, just going at it and battling."
This marks the third straight year the Jayhawks have just one true rival on the schedule. Missouri, of course, put an end to the Border War by leaving the Big 12 for the SEC.
"Our guys know their guys. We work camps together in the summer and things like that," Self said of Jayhawks and Wildcats. "We've always thought of K-State as being a rival. I think they're probably more of a respected rival whereas maybe Missouri was more of a hated rival.
"We've developed rivalries with other programs and other teams, but certainly K-State's had enough success against us of late, including, I believe the last time we played (85-82 victory over KU last Feb. 10 in Manhattan), that our guys look at it as a rivalry without question."
Self, who is 22-4 versus KSU as KU coach, acknowledged it's different gearing for one rival — and one rival only — on the slate.
"To be really candid, it's not good. It hhaven't taken a step backward and that kind of stuff. But I think everybody likes waking up in the morning disliking somebody (Mizzou).
"But it's kind of the way it is. It's the landscape of college athletics. It's not just us. It's happening everywhere in every league. I don't know if Duke and Maryland are going to play. Certainly we're fortunate and glad, as I'm sure K-State is, to have each other. At Oklahoma State and OU, we had Bedlam, which is good, and there are still plenty of rivalries. As the league grows and gets older, there will come more and more rivalries, but it's hard to replace 180 games."
Today, KU may face a KSU team without leading rebounder and second-leading scorer Nino Williams (11.7 ppg, 4.9 rpg), who has a knee injury.
"I played against him a lot in high school," Ellis said of the former Leavenworth High standout. "I don't want him to be hurt. You play basketball to compete. You want them to be at their best, definitely."
Sophomore Marcus Foster, a 6-3 guard from Wichita Falls, Texas, averages a team-leading 13.8 ppg. Thomas Gipson, a 6-7 senior forward from Cedar Hill, Texas, averages 11.0 points and 4.7 boards.
KSU, which has made 45.7 percent of its shots compared to its opponents' 43.7 percent, outrebounds foes, 31.5 to 28.8.
The Jayhawks, who were outrebounded by TCU, 44-35, in Wednesday's narrow 64-61 victory in Fort Worth, Texas, have been concentrating on hitting the boards at physical practices.
"Coach Roberts (Norm, assistant) did a little drill yesterday. He would throw the ball in there, get a couple managers to beat on us with the pad, make sure we secure the rebound," junior Jamari Traylor said.
"We've been doing different drills, with the managers beating on us with the pads, which helps," Ellis said. "Those are good drills, great drills. I feel they are helping."
No points vs. TCU: Freshman guard Kelly Oubre Jr. did not score in a 10-minute stint at TCU. He was suffering from flu-like symptoms.
"He was out of it. We knew the day before the game he was out of it," Self said. "On game day, you ask a player how you're doing, they're going to say, 'I'm good. I'm good, coach. Don't worry about me.' Whenever they say, 'Man, I feel terrible,' you know they probably don't feel very good on game day. That's kind of the case. Kelly didn't feel well at all."
Self said Oubre and Devonté Graham, who aggravated his turf-toe injury versus TCU, are "fine" entering today's game.
Doubtful: Self was asked what he thinks of reports that Williams is "doubtful" today.
"Well, I assume they're accurate. I can't imagine a media member ever saying anything that wouldn't be 100 percent accurate," Self joked. "So from a fan of the game and a fan of his, and seeing him play in high school, he's had a good career, and he's capping it off the right way this year, his senior year. So we hope everybody plays, but I can't comment on an injury to somebody else. I have no idea."
Bad timing?: All games in next season's Big 12/SEC Challenge will be played on Jan. 30, well after the start of conference play.
"In my opinion, the Big 12/SEC is good for our league. It forces everyone to schedule a hard game. Timing is bad. So what you have to look at, does the good offset the negative? And I think the answer is yes. The exposure that day brings attention to your league and the SEC," Self said. "I don't think any coach would tell you they're crazy about the date."
It has been impossible to schedule all the games on one day in December because of bowl season.
"It's great to be on ESPN. That will be the story Jan. 30 on ESPN. But I don't think anybody's happy about stepping out of the league. We've done that in the past, and it hasn't worked out great for us," Self said. "It's fine. I don't think it's the best, but it's certainly the best of what we have to work with."
This, that: KSU coach Bruce Weber is 1-5 versus KU, 1-4 while at K-State ... The Sunflower Showdown is the eighth-most continuously played rivalry (108 years) in college basketball and the oldest among Big 12 schools, while the 279 meetings tie for the sixth-most played. ... KSU was forced into a season-high 25 turnovers by West Virginia's press in its 65-59 loss Tuesday in front of a sellout crowd of 12,528 at Bramlage Coliseum. ... The Wildcats are 2-3 vs. Top 25 opponents, including 0-2 vs. Top 10 foes. ... Today's game will begin a stretch in which K-State will play five of its next seven games away from Bramlage. ... KU will play host to Iowa State at 8 p.m. Monday in Allen.asn't been great," Self said. "You can make a case for certain things about it that we