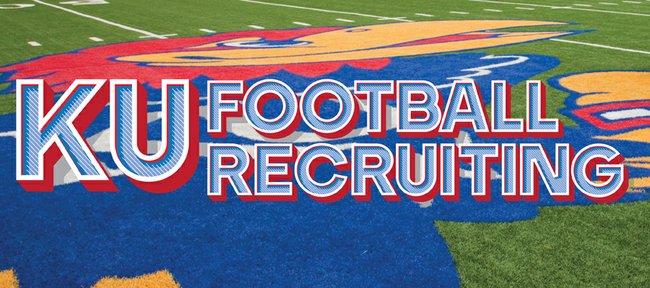 The final weekend before signing day is always a big deal, but this weekend looks to have even more importance for the Kansas University football program, which still is in the process of trying to fill up first-year head coach David Beaty's first recruiting class.
With 21 spots accounted for — eight mid-year transfers and 13 oral commitments — and a few spots still left to fill, Beaty and company have been logging all kinds of frequent flier miles during the past couple of weeks in hopes of identifying the final pieces to the puzzle.
According to Rivals.com site JayhawkSlant.com, the Jayhawks will welcome 10 athletes to town this weekend for their official visits. Four of the 10 — quarterback Carter Stanley, wide receiver Steven Sims and cornerbacks Shaq Richmond and Shola Ayinde — already have committed to Kansas and are just coming to take one final look around before making things official next Wednesday on national signing day.
The six other visitors, which include everything from Coffeyville Community College offensive tackle to an in-state safety from Derby, remain undecided and are in the process of trying to decide if Kansas is the place for them.
Along with touring the facilities, meeting the coaching staff, academic counselors and getting answers to all kinds of questions, the weekend visitors also will attend Saturday's 1 p.m. KU-K-State basketball game at Allen Fieldhouse. Throughout the past several decades, getting recruits into the Fieldhouse for a game has proven to be a huge tool in getting them to say yes to Kansas.
It's important to remember that the recruiting game is incredibly fluid, especially this close to signing day. So even though these guys were expected to visit this weekend does not mean they all made it or that others did not join them at the last minute.
Stay logged in to KUsports.com and Twitter — @KUSports or @mctait — throughout the weekend for updates.
Here's a quick look at the visitors KU is expected to host this weekend, along with the most up-to-date version of the 2015 recruiting class as it stands today.
Clyde McCauley – 6-foot-5, 275-pound offensive tackle from Bowie High in Arlington, Texas. Mcauley, a 2-star prospect, committed to Fresno State back in August, but KU cornerbacks coach Kenny Perry has been in hot pursuit since he took the job. McCauley also has offers from Louisiana-Monroe and San Diego State.
Cam Durley – 6-foot-6, 275-pound offensive tackle from Houston Christian High. Also has offers from TCU and McNeese State. Offensive line coach Zach Yenser said earlier this month that his job was to find two offensive tackles by signing day and Yenser is the lead recruiter for Durley.
Marnez Ogletree – 5-foot-10, 190-pound cornerback from Fullerton (California) Community College. Two-star prospect has offers from Boise State, Fresno State, Georgia State, Hawaii, Indiana, KU, Middle Tennessee State and Utah State. Perry recently made an in-home visit with Ogletree and the idea of playing in the Big 12 seems to have some pull.
Tyrone Miller – 6-foot, 178-pound safety from Saline (Michigan) High. Miller committed to Central Michigan in early December but appears to be at least open to looking around. Also has offers from Bowling Green, Buffalo, Indiana State, Toledo and Western Michigan.
Darreon Jackson – 6-foot-1, 190-pound safety from Derby High. Three-star Kansas prospect is one of the biggest fish left on KU's wish list. Jackson also has offers from Boise State, Kansas State Army, North Texas, Southern Illinois, Texas Tech, Tulsa, UTEP and Western Illinois. Defensive coordinator Clint Bowen is the lead recruiter for Jackson.
Jaypee Philbert – 6-foot-6, 305-pound offensive tackle from Coffeyville Community College. Another Yenser target, the three-star juco prospect also has offers from Colorado State, Iowa State, South Florida, Arizona State, Arkansas State and Georgia State. Interesting note: The lead recruiter for Philbert at Iowa State is none other than Tommy Mangino, son of former KU coach Mark Mangino.
Carter Stanley – 6-foot-2, 188-pound quarterback from Vero Beach (Florida) High. Stanley became the second, and likely final, QB to commit to KU in the current class, joining Bishop Miege's Ryan Willis. Two-star, dual-threat prospect chose KU over UConn and late interest from Penn State, Miami (Florida) and Texas Tech.
Shaq Richmond – 6-foot, 180-pound cornerback from Timberview High in Arlington, Texas. Three-star prospect committed to KU in mid-December and picked the Jayhawks over offers from Louisville, New Mexico, SMU and UTEP.

Shola Ayinde – 6-foot, 168-pound cornerback from George Ranch High in Richmond, Texas. Ayinde, a two-star prospect who had been committed to Tulsa, chose KU over offers from New Mexico, Tulsa, Utah State and UTEP. He committed to KU on Jan. 19 and came largely because of KU D-Line coach Calvin Thibodeaux, who previously coached at Tulsa.
Steven Sims – 5-foot-10, 165-pound wide receiver from Travis High in Richmond, Texas. Two-star prospect known for ability to play in space, picked KU over offers from McNeese State, Southeast Louisiana and Stephen F. Austin. KU receivers coach Klint Kubiak, who first caught wind of Sims while still working with Beaty at Texas A&M;, was the lead recruiter for Sims.
More like this story on KUsports.com