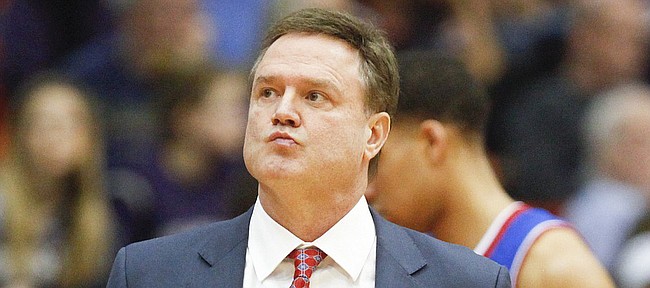 Photo Gallery
Kansas basketball v. TCU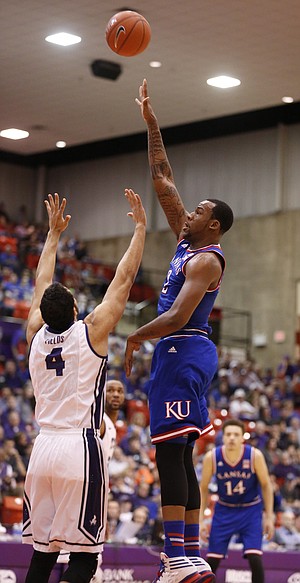 Images from Wednesday night's game between the Jayhawks and Horned Frogs in Fort Worth, Texas.
Podcast episode
Kansas basketball coach Bill Self was far from pleased with much of anything that transpired in the Jayhawks' 64-61 win at TCU on Wednesday night.
KANSAS 64, TCU 61
Fort Worth, Texas — In the midst of a difficult Big 12 schedule, as seen in the Jayhawks' 64-61 win at TCU Wednesday night, Kansas University basketball coach Bill Self isn't thinking about the summer right now. Far from it.
Self said on his Hawk Talk radio show he's not yet put a lot of thought into the Jayhawks' upcoming appearance in the World University Games in July, in South Korea.
"We've gotten more familiar with the rules," Self said. "It's not the first time we've been over there (international basketball) to coach. It's the first time in a while. I must become familiar with the rules and how everything goes.
"I've not thought about it except to use it for recruiting. I'd think freshmen coming in ... 'If I'm only going to be there a while I can go (to KU) and get unlimited contact with the coach in the summer and play eight games where I can't do that anywhere else.' Hopefully in the thought process will be (players wanting) accelerated development. But we've done nothing other than organizational things for the trip."
Self on third-year TCU coach Trent Johnson: "Trent has been coach of the year in all three conferences he's coached in (Nevada of the WAC; Stanford of Pac-10; LSU of SEC). He learned from Mike Montgomery (as assistant at Stanford). He and his staff do a great job."
Zeigler's third school: Trent Zeigler, TCU's 6-5 senior guard from Detroit, is well-traveled. He played two seasons at Central Michigan for his dad, Ernie, who was Chippewas' coach from 2006-12, and also played a year at Pitt.
"Top to bottom, it's hard to beat this conference," Zeigler told Big12sports.com. "I'm happy to be playing in it. After I opened my recruitment, TCU was one of the first schools to call me. Coach Johnson and I had a previous relationship when he recruited me at LSU, as well as coach Scott (Brent, TCU assistant). It felt like the right fit for me."
This and that: KU improved to 8-1 versus TCU. ... Bill Self is now 12-4 vs. TCU, including 6-1 while at KU. ... Trent Johnson is 2-4 vs. KU, 1-4 while at TCU.
---
More news and notes from Kansas at TCU
---
More like this story on KUsports.com