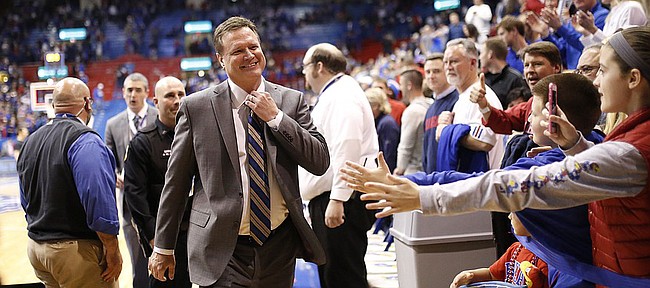 Austin, Texas — Kansas University's 10-time defending Big 12 basketball champions today play the team Bill Self picked to win the 2014-15 crown.
Rick Barnes' Texas Longhorns take a 14-4 overall record, 3-2 in conference play, into a 1 p.m. clash against the Jayhawks (15-3, 4-1) in Frank Erwin Center.
"They returned all five starters off a team as talented as any in the league last year. They added a couple recruits expected to be difference makers. Based on rosters, I put them No. 1," reasoned Self, whose Jayhawks ultimately finished first in the preseason coaches poll, with the Longhorns second. Coaches were not allowed to vote for their own teams.
The No. 17-ranked Longhorns — who opened league play with a win over Texas Tech and losses to Oklahoma State and Oklahoma — have rallied to defeat West Virginia, 77-50, and, most recently, TCU, 66-48.
"That definitely adds some emphasis on it," KU junior forward Perry Ellis said of playing a team that before the season was expected to be KU's main competition for the title. Two coaches in addition to Self voted UT first in the league.
"As players you compete, and you want to overcome that. That just motivates us to go even harder," Ellis added.
Self said the Longhorns will be mighty difficult to beat.
"They are huge. They go after every ball. They try to block everything," Self said of the Longhorns. "They'll play zone. We'll have to move the ball and make shots. We have to go with the mindset to get in transition and compete on the glass. If not, it'll be a long afternoon like last year there."
The Jayhawks, who must combat 6-9 Cameron Ridley and Connor Lammert, 6-8 Jonathan Holmes and 6-11 sixth man Myles Turner, defeated Texas, 85-54, in Allen Fieldhouse last year but lost at Erwin Center, 81-69.
"Texas has a great coach and great group of returning guys. They have size and a great point guard who is quick (Isaiah Taylor)," said KU junior forward Jamari Traylor. "They're a tough team. We played them good at our house last year. When we went down there, they owned us the whole game. We've got to do a better job down there and redeem ourselves. It left a bad taste in my mouth losing like that there. We'll do what we can to make that not happen this year," Traylor added.
Bedford, Texas, native Turner, who averages a team-leading 11.8 points and 6.8 rebounds a game, chose Texas over KU and others in recruiting.
He's a 46.5 percent shooter who has made 13 of 32 threes for 40.6 percent.
Holmes, a senior from San Antonio, averages 11.4 points and 6.7 boards. He has hit 40.8 percent of his shots. Ridley, a junior from Houston, averages 8.7 points and 4.8 boards.
Point guard Taylor, a sophomore from Hayward, California, averages 11.4 points, with 28 assists and 19 turnovers. He has hit 39 percent of his shots. Javan Felix, a 5-11 junior from New Orleans, chips in 10.5 ppg, with 31 assists against 35 turnovers. Prince Ibeh, 6-10 junior from Garland, Texas, averages 3.1 boards and 2.4 points as another big off the bench.
Self sees some similarities between Texas and Kentucky, another tall team, which beat KU by 32 points.
"They can put certain lineups out there as tall as Kentucky," Self said. "They can throw it into tall guys who can turn and score. It'll be a tough game for us. In our league, all games are tough. You should have to play very well to beat a team of its caliber on the road."
Taylor missed the first 10 games of the season because of injury.
"He's really good," KU freshman point Devonté Graham said. "I watched him last year. He's quick and likes to get in the paint a lot. I have to try to stay in front of him when guarding him, get him to stay out of the lane."
Self agrees with that assessment.
Of freshman super sub Turner, Self said: "Myles is having a terrific year. I don't think he's starting, still yet he's their leading scorer, rebounder and shot blocker (48). Those are pretty impressive stats for a freshman on a good team."
Stats, facts: KU's Cliff Alexander and Kelly Oubre Jr., have been named to the 2015 Integris Wayman Tisdale Award Midseason Watch List, the U.S. Basketball Writers Association (USBWA) announced Friday. Members of the USBWA's board of directors chose the players to be included on the list as contenders for the national freshman of the year award. In all, there are 14 on the list. ... KU leads the all-time series, 23-8, and has won five of the last six meetings and nine of 11. ... The Jayhawks are 6-6 at Erwin Center. ... UT is 34-19 (.642) against AP Top 25 teams under Rick Barnes at Erwin Center. ... Texas has held foes to 56.3 ppg off 34.4 percent shooting. UT has a plus-12.2 rebound margin. ... Ridley has averaged 14.5 points, 5.0 rebounds and 3.5 blocks in the last two games. He has made 12 of 17 shots in those games. ... UT has won 17 of its last 19 home games. Barnes has 598 coaching victories (against 304 losses) including 396 wins (170 losses) in 17 seasons at Texas. ... KU will meet TCU at 8 p.m. Wednesday in Fort Worth, Texas. ... Malik Newman, a 6-3 guard from Callaway High in Jackson, Mississippi, who is ranked No. 3 in the Class of 2015 by Rivals.com, will visit Ohio State this weekend, Zagsblog.com reports. OSU plays Indiana on Sunday. He also is considering KU, Kentucky, North Carolina State, Mississippi and Mississippi State.
More like this story on KUsports.com