Photo Gallery
Kansas basketball v. Texas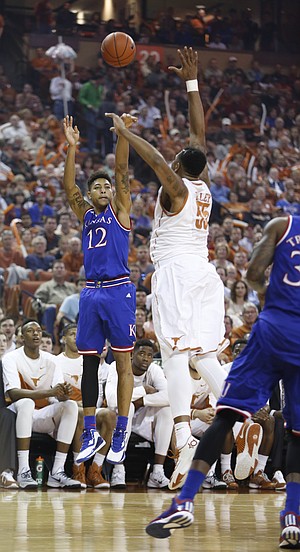 Images from Saturday's game between the Longhorns and Jayhawks at Frank Erwin Center in Austin.
Podcast episode
Kansas basketball coach Bill Self talks about the Jayhawks' Saturday road win at Texas, a victory in which he saw few issues for his team.
Podcast episode
Kansas basketball subs Brannen Greene and Cliff Alexander combined for 29 points off the bench in KU's win at Texas. They discussed the Jayhawks' win with the media.
KANSAS 75, TEXAS 62
Austin, Texas — Only two things can stop Brannen Greene from shooting. First, the bench, where he is sent when he plays poor defense. Second, are the boundaries of the court, because made shots from out of bounds don't count.
Running into Perry Ellis' elbow couldn't stop Greene, even though it cost him two days of practice. The Texas defense couldn't stop him either.
Making a big contribution for the second big victory in a row, the Kansas University sophomore forward from Georgia went off for 14 points in 20 minutes, helping Kansas defeat Texas, 75-62, in the Erwin Center.
Texas took an 11-2 lead and soon after that, Greene put his whatever-you-can-do-I-can-do-better confidence to good use.
Not even six minutes after Greene checked into the game, he had sandwiched a pair of threes around a baseline runner, his second three tying the score at 15-15.
For the game, Greene made 5 of 7 shots from the field, including 4 of 5 from three for a 14-point, four-rebound game in 20 minutes. He even came up with his second steal in as many games, giving him two on the season.
Greene's shooting was in keeping with the ball security displayed by guards Frank Mason III and Devonté Graham, who didn't have a turnover in 52 minutes. All of KU's three turnovers came in the first half.
"When we're in the game at the same time, coach always tells us we have to get a good shot every possession," Graham said. "Taking care of the ball is the key to getting a good shot."
In the case of Greene, what defines a good shot? Anywhere in-bounds?
"Pretty much," Graham said. "Two steps across halfcourt might be a good shot for BG."
Mason defined a good shot for Greene as, "two to three feet outside the three-point line."
Greene hit one deeper than that after getting the play off to a rough start. He tried to spin a bounce pass to Perry Ellis.
"It came off his hand weird," Ellis said. "He was spinning it and it came at my feet. I was able to get the ball back and get it to him and he knocked down the shot."
Ellis turned the hustle play into an assist and had little doubt Greene would turn it into a bucket.
"His confidence is on another level," Ellis said. "He believes in himself and that's what you want."
The three points Ellis set up for Greene would have healed any lingering ill will for Ellis' elbow giving Greene a black eye, except there wasn't any ill will in the first place.
Kansas was working Thursday in practice on getting the ball to the middle of the zone they would face against Texas when the accident took place.
"He kind of ran into me," Ellis said. "I got the ball in the middle and I turned around and he pretty much ran into me."
The dead-eye shooter had a black eye, which mattered not even a little bit by the time the game arrived.
"It's not swollen," Greene said. "It's just black."
And dead. Greene followed back-to-back scoreless games with hot-shooting contributions vs. Oklahoma and Texas. In a combined 35 minutes, Greene totaled 26 points, made 9 of 13 shots and 7 of 9 three-pointers.
Kansas coach Bill Self credited Greene with getting the Jayhawks back in the game early.
"Everybody could take a deep breath (after Greene's eight quick points)," Self said. "I think Brannen Greene bailed us out. And then he made two huge threes in the second half, one of them was guarded in the corner."
Greene handled a difficult defensive assignment, guarding Texas senior Jonathan Holmes, well enough to stay on the court. Holmes scored 14 points in 30 minutes.
"He was trying to post me a lot because he's bigger, stronger," Greene said. "I was just trying to get around him, get in front of him."
Greene didn't always succeed in doing so, but he did practice the word "trying" that he used twice in that quote, he didn't just preach it. On this afternoon in which eight players were called upon, they played much better than could be expected of three freshmen, three sophomores and two juniors. 
---
More news and notes from Kansas at Texas
---