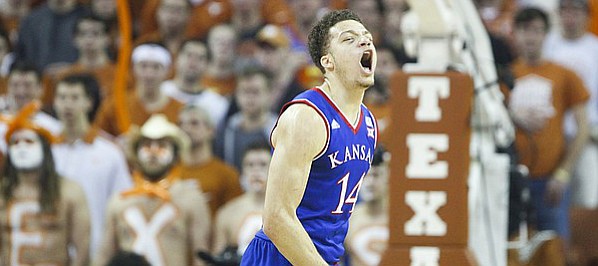 Photo Gallery
Kansas basketball v. Texas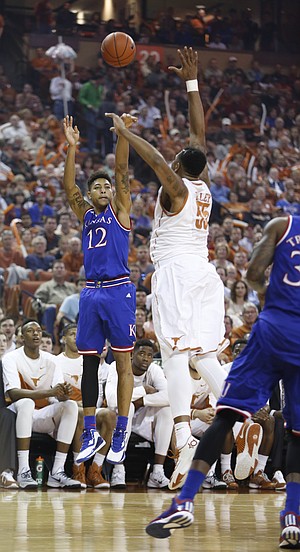 Images from Saturday's game between the Longhorns and Jayhawks at Frank Erwin Center in Austin.
Podcast episode
Kansas basketball coach Bill Self talks about the Jayhawks' Saturday road win at Texas, a victory in which he saw few issues for his team.
Podcast episode
Kansas basketball subs Brannen Greene and Cliff Alexander combined for 29 points off the bench in KU's win at Texas. They discussed the Jayhawks' win with the media.
KANSAS 75, TEXAS 62
Facing a Texas team with the type of length and defense that has given Kansas trouble this season, the Jayhawks won 75-62 in Austin, Texas, by riding a couple of backups and a veteran starter.
Freshman big man Cliff Alexander saw his shots denied inside often, but stuck with his assertive approach to finish with a team-best 15 points off the bench. Sophomore guard Brannen Greene, meanwhile, added 14 as a substitute on 4-for-5 shooting from three-point range.
Junior forward Perry Ellis showed he had learned from previous trips to the paint against UT and scored 14 points while showing solid shot selection.
The Jayhawks shot 44 percent against the Big 12's top defensive team. Kansas held Texas to 40-percent shooting and edged the Longhorns 37-36 on the glass.
What's more, the Jayhawks only turned the ball over three times, all coming in the first half.
KU improved to 16-3 overall and 5-1 in the Big 12.
Texas, led by point guard Isaiah Taylor's 23 points, fell to 14-5 and 3-3 in conference play.
Kansas has another road test in Texas Wednesday night at TCU.
— See what people were saying about the game during the KUsports.com live blog.
---
More news and notes from Kansas at Texas
---