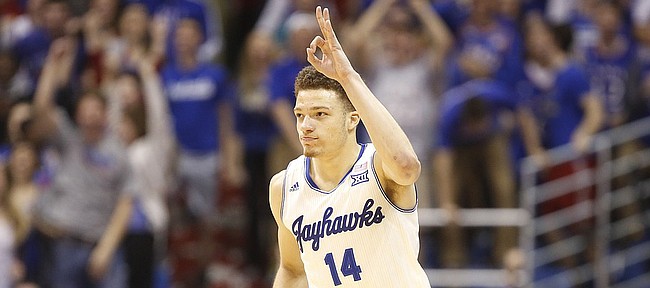 For those Kansas University basketball fans who turned off the TV in anger because Oklahoma had the gall to come back from a 20-point deficit to take a four-point lead, never claim that you never quit on your team.
Just be happy to know that your team didn't quit on you and ended up on the winning side of 85-78 Monday night.
The customary 16,300 crammed into Allen Fieldhouse were treated to three great basketball games in one night. In what felt more like a three-game series than a 40-minute ride, Kansas won the first, 39-19. That one took about 13 minutes of game clock. The next spanned about 19 minutes and Oklahoma won it, 45-21, to take a 64-60 lead on the scoreboard with 7:46 left.
KU won the rubber match, 25-14.
"It was a great, great game and an unbelievable win," Kansas coach Bill Self said afterward.
Both teams featured players hitting guarded shots from long range. Brannen Greene would hit a shot and trash-talk at Isaiah Cousins. (Is it just me or does Greene not retreat as quickly on defense when he puts too much style into making the three-sign after hitting one?) Cousins would hit one and return the chatter.
Oklahoma didn't lose this game. Kansas won it.
Afterward, Self did a nice job of explaining how this thriller was different from other wild swings.
"I think in the Florida game we started off miserably and flipped it in a positive way," Self said. "Utah, we were miserable in the second half and almost couldn't get it back. ... I don't think we played as bad tonight in the second half. I thought we missed shots and I thought they played really well."
And then KU played really well, winning the final 3:28, 16-7. The most crucial bucket came when Oubre missed a free throw and Cliff Alexander pulled it out of a sky crowded by long Oklahoma arms and fired a pass out to Frank Mason at the top of the key. Mason quickly swung it it to Greene on the right wing for a three-pointer that put Kansas up two points. KU never trailed again.
It triggered a string of memorable plays. Right after the big offensive rebound, Alexander sold a charge without overselling it. Frank Mason hit a pull-up jumper from the right elbow to push the lead to four points.
Greene was late recovering to his man and Cousins burned him for a three that cut the margin to one point. Mason sucked the defense to him in the lane and dished to Alexander for a dunk. Three-point lead. The left-handed Oubre drove right — he's getting better all the time and is tough to guard — and made a bucket that put Kansas up 79-74 with 1:18 left. Oubre went coast-to-coast for another bucket.
At that point in the game, the crowd, not sapped of its energy by the ridiculous manufactured, pre-game noise, generated the volume on its own, not having to worry about competing with loudspeakers that really do need to be unplugged.
It was a wildly entertaining three-game series in one night, a 40-minute whirlwind that in some ways recalled KU's Final Four victory vs. North Carolina on the way to the national title in 2008.