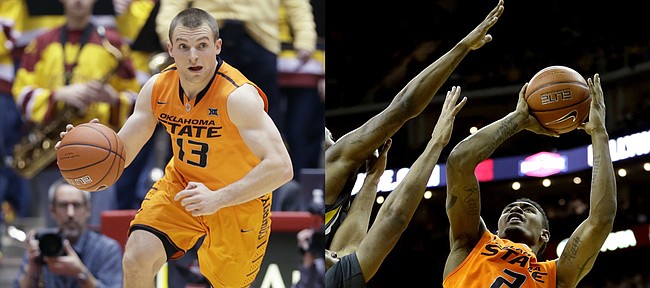 Podcast episode
Kansas University sophomore point guard Frank Mason III meets with reporters before KU's Tuesday night home game against Oklahoma State. Mason discusses comparisons to former Kansas standout Sherron Collins, how KU utilizes lob passes and playing with freshman point Devonté Graham.
Podcast episode
Kansas University junior forward Hunter Mickelson meets with media members and discusses what it's like to have to perform in practice to earn game minutes, as well as the differences between playing at KU and his former school, Arkansas.
Marcus Smart — the villain who performed a backflip on the center-court Jayhawk after Oklahoma State's 85-80 victory over Kansas University on Feb. 2, 2013 — is long gone from college, now averaging 21 minutes a game as a rookie for the Boston Celtics.
His departure to the NBA after two seasons, however, hasn't exactly decimated the No. 24-ranked Cowboys, who take a 12-3 record, 2-1 in Big 12 play, into today's 6 p.m. battle at No. 9 KU (13-2, 2-0).
"I could be off, but to me, Baylor and Oklahoma State are the two most pleasant surprises in our league," KU coach Bill Self said Monday, noting the Cowboys have "beaten Texas and Kansas State at home and could have won in Ames (a 63-61 loss to Iowa State).
"OSU lost two pros (Smart and Markel Brown, Brooklyn Nets), one's a lottery pick, and they've not taken a step back. They're playing well together."
His Jayhawks today face the task of slowing a Cowboy team led by junior guard Phil Forte III and senior wing Le'Bryan Nash, who rank 1-2 in the Big 12 in scoring at 17.7 and 17.6 points a game. Nash has made 47.9 percent of his shots, which ranks sixth in the league. Forte has hit 46 percent, which ranks 10th.
"Those two may be frontrunners for Big 12 Player of the Year. We've got to do a great job on those two," Self said.
Forte, a 5-foot-11, 185-pounder from Flower Mound, Texas and son of former KU football standout Phil Forte, leads the Big 12 in minutes played (33.0 per game) and steals (2.6 per game), is second in three-pointers made (2.8 per game) and fourth in three-point-field-goal percentage (42-of-102, 41.2 percent).
A year ago, Forte went 7-of-10 from three and scored 23 points in the Pokes' 80-78 loss to KU in Allen Fieldhouse. He's averaged 13.0 points (13-of-42 from three) in five career games versus KU, his Pokes winning two of the contests.
"He has as much range as anybody in the country. We should not be surprised wherever he shoots them from because he's capable of making them from anywhere," Self said of Forte.
"He's a complete player, strong as an ox. He plays so hard, moves without the ball, is in unbelievable condition. This is when you know you can shoot ... when everybody on the defensive end is designed to make sure you don't shoot it. You get looks that have to be quick-release, where you don't get your feet set and comfortable and shoot it. I bet on open shots he gets from three with his feet set ... I bet he's shooing 65, 70 percent," Self added. "Making so many moving off balance, late clock, really make his stats even that much more impressive."
A year ago, Forte gave up several inches in guarding 6-5 Wayne Selden Jr.
"No question he'll have to guard a taller guy. I don't think that is something that will bother him. He's been used to doing that his whole life," Self said.
Of Forte, KU point guard Frank Mason III said: "You've got to stay locked in. It can't be just one guy guarding him, even though it's just one guy checking him. We have to do it as a team. We know he likes to run off a lot of screens, quick curl, things like that.
"He can shoot it from deep. He can shoot it with guys in his face, make contested shots," added the 5-11 Mason. "You have to stay engaged and not give him the open looks."
Nash, 6-7, 235 from Dallas, has averaged 11.8 points and 4.3 rebounds versus KU in six games — two OSU victories.
"Staten (Juwan, West Virginia), maybe Buddy (Hield, Oklahoma) ... Le'Bryan may be frontrunner for Player of the Year, and deservedly so," Self said. "Whether Jamari (Traylor), Perry (Ellis) or whoever it is has to do a terrific job on him."
The Cowboys this season have welcomed back 6-8 Amarillo, Texas, senior Michael Cobbins, who suffered an Achilles tendon tear in December, 2013, and missed Big 12 play. He averages 7.2 points and 6.3 boards. Other two starters: Anthony Hickey, 5-11 senior, from Hopkinsville, Kentucky, who averages 9.3 ppg and 4.8 rpbg and 3.3 apg, and Jeff Newberry, 6-2 junior from Atlanta, who averages 5.8 ppg.
Big toe feels OK: KU freshman Devonté Graham has experienced no problems with his sprained right big toe since dishing six assists and grabbing six rebounds in a 19-minute return against Texas Tech on Saturday.
"Pain ... I don't want to say nonexistent, but it's not bothering him. If anything, it's a little uncomfortable time to time," Self said of Graham on his weekly "Hawk Talk" radio show. "He got it stepped, on and he knows now he can get it stepped on and not have it bother him much. That was one concern, 'What if I get it stepped on?' I think he adds a lot to our team."
Nice parents: Self enjoyed chatting with the parents of Svi Mykhailiuk (Inna and Iurri) again Monday.
"They are so nice, so sweet, so excited about what is happening with him," Self said. "Svi gives them nothing but positive feedback. The people here have been good to Svi. The players have, but also the campus community and the town have been good to him. His dad said something interesting today. I said, 'Sometimes he's a little up and down.' Dad said, 'Well, he is 17 years old.' I say that all the time and thought it was interesting to hear him say it. The parents have totally realistic expectations. Not too many have realistic expectations about their own. It doesn't happen often. It's refreshing. I'm so excited they came by the office today."
OSU's perspective: Cowboys coach Travis Ford to Big12sports.com: "They (Cowboys) play as if they maybe have something to prove. And that's not always bad. Play with a little bit of fear. That's not a bad thing. I told them every game I ever played I feared — you've got to be a little scared. But you're prepared. That's my mentality. And they're kind of adopting that a little bit."
Ford to the Oklahoman: "Kansas is obviously a very talented basketball team. They have a combination of great guards and great big men. They are shooting the three extremely well, almost 40 percent (39.5). They have All-Americans in Perry Ellis and Cliff Alexander, Jamari Traylor, go down the line. They can score from every position. There's not many teams that can have the inside/outside punch Kansas has."
Recruiting: Terrance Ferguson, a 6-6 junior guard from Dallas, will attend today's game on an unofficial recruiting visit, Rivals.com reports. He's ranked No. 8 nationally in the Class of 2016.
More like this story on KUsports.com