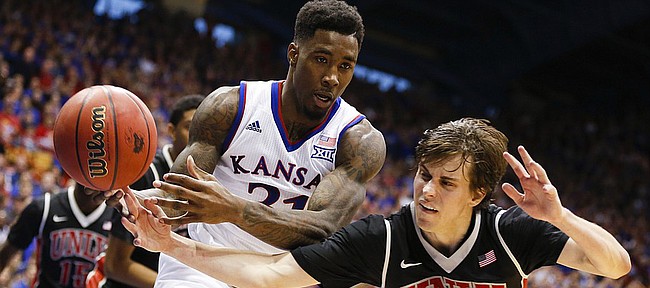 Newfangled statistical analytics have shed some light on how certain players and teams perform, but they carry way too much weight in that some people don't trust what they see with their eyes unless it's when they are using those eyes to read analytics.
I'll never forget a story I read about how a computer figured out that the Catherine Zeta-Jones had the perfect facial features, bone structure, etc., for the big screen. Really? A computer can make an objective, definitive statement on a subjective topic?
Always trust what your eyes see live, first, and then see if the computer verifies, and if not, ask why not?
As enjoyable as analytics can be at times, it's still instructive to look at old-fashion, stand-alone numbers and see what stories they tell.
Such as:
1.) Kansas is shooting .905 from the free-throw line in the final five minutes.
What does it say? The players are in the right physical and mental condition to withstand fatigue and pressure. It also says the ball gets into the right hands at times when opponents are likely to commit fouls.
2.) Brannen Greene is 17-for-17 from the free-throw line.
What does it say? His form never varies. He nods at whatever the ref tells him, takes two quick dribbles, looks at the rim, swish. His shooting touch is soft, and he loves to shoot, whether it's with the ball in play or he's alone at the line, the target of barbs on the road, the center of attention in a silent building at home.
3.) Greene has played 198 minutes and does not yet have a steal.
What does it say? His defensive instincts pale compared to those at the other end. He doesn't have that super-quick first step some have, and he doesn't make playing disruptive defense a priority.
4.) Wayne Selden's two-point percentage (.348) actually is worse than his three-point percentage (.358).
What does it say? Some of those misses at the rim have come on attempted spectacular dunks. Although such plays do fire up crowds if the ball goes in, it's generally a better idea to take the highest-percentage shot available. Another possible explanation: He speeds himself so much to make moves, trying to spark a stagnant offense, and puts up the shot before slowing himself down enough to take a soft shot.
5.) Jamari Traylor ranks first on the team with 24 floor burns, and Perry Ellis is second with 21.
What do those stats say? They have been around long enough to know that the way to earn minutes is to dive for every loose ball as if it were a pot of gold.
More like this story on KUsports.com