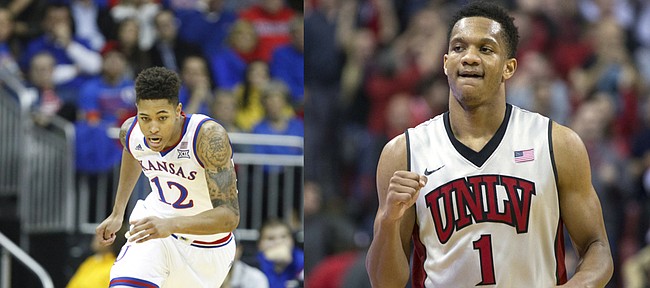 Former Las Vegas Findlay Prep teammates Kelly Oubre Jr. of Kansas University and Rashad Vaughn of UNLV, who were Rivals.com's Nos. 6- and 8-ranked players in the country a year ago, have remained close since heading their separate ways for college.
"We talk (on phone) about how things are going. We talk about just, 'Keep grinding,' because we are going to meet each other at the top one day," 6-foot-7 freshman Oubre said of 6-6 freshman Vaughn, who could guard each other in Sunday's KU-UNLV game, set for a 3:30 p.m. tipoff in Allen Fieldhouse.
Podcast episode
Kansas University freshman Kelly Oubre Jr., who played for Findlay Prep in Las Vegas, knows a few UNLV players pretty well. The Runnin' Rebels play at Allen Fieldhouse on Sunday, and Oubre spoke with the media about his knowledge of some of their key players.
"We obviously have heated arguments about who we want to win ... so it's going to be a pretty fun game to play against him," added Oubre, who after scoring 20 or more points in two of KU's last three games has averaged 6.9 ppg overall to Vaughn's team-leading 17.9 mark.
KU recruited Minnesota native Vaughn, who coach Bill Self said "is one of the best freshmen in the country."
Oubre is coming on as well. He has connected on eight of his last 15 threes, hitting his first four tries in Tuesday's 78-62 victory over Kent State.
"This was my goal to do this the whole time, take it day by day and enjoy the process," Oubre said Friday. "I've been learning from all the veteran guys that were in my position like B.G. (Brannen Greene) and Wayne (Selden). I've been taking bits and pieces from their game, seeing how they do little things like scouting report, taking stuff seriously, kick thing up a notch and having the professional mindset we need to have to be successful."
Oubre, who has had five games in which he has scored two or fewer points, said he has "been studying the playbook, studying everything we need to do that's working for us. I'm starting to find my groove and starting to improve on things I'm doing daily to help me be successful."
Talking to Vaughn helped him through some of his early struggles. And another friend, too.
"Me and Stanley Johnson (a Santa Ana, Calif., Mater Dei, grad, now at Arizona) are real close friends. He was going through a similar situation I was going through. We talked how it's just a process, how we both have to just stick with it, stay strong," Oubre said. "We both stayed in the gym and talked about things that will help us get better and get us to the next level. It took a lot of stress off my mind and helped me look forward to the next day and continue to get better."
Self has been impressed with Oubre's play of late.
"He went from probably being the guy that looked the least ready a month ago to now he looks like he's by far the most advanced," Self said. "That's the way it is with young kids. Sometimes the light comes on at different times. I've said, when the light comes on, I don't see it coming off. That's what has happened with him."
New Orleans native Oubre said in an interview session that included Vegas reporters Friday that he is loving his experience at KU.
"I can't compare it to anyplace else. It's the best place to play in college basketball, to me," Oubre said. "I get an instant thrill going through my body when I run out that tunnel and see all those fans cheering for us. Everybody has KU in their heart. That's what I love about it."
Graham update: Freshman guard Devonté Graham, who sprained his right big toe against Georgetown on Dec 10, is "doing most of his rehab in water and riding the bike and elliptical," Self said. "We haven't let him run yet, but we're hopeful if he continues to progress we'll have a report for you next week that maybe he can get back on the floor (to practice). That hasn't been the case yet."