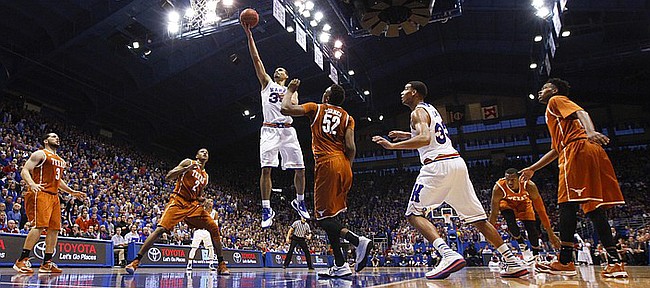 Perry Ellis started the Big 12 season off slowly, scoring in single digits in two of Kansas University's first three games and three of the initial seven contests.
He's finishing like a guy intent on accepting some postseason hardware for a team closing in on an 11th-straight conference championship.
"We're playing with the best player in the league right now. Right now Perry Ellis is the best player in the league. He was dominant, fantastic," KU coach Bill Self exclaimed after the 6-foot-8 junior forward exploded for a season-high 28 points and tied a season high with 13 rebounds in Saturday's 69-64 victory over Texas in Allen Fieldhouse.
Photo Gallery
Kansas basketball v. Texas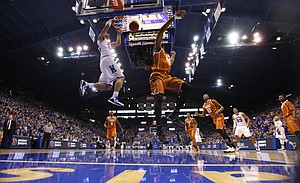 Images from Saturday's game between the Jayhawks and Longhorns at Allen Fieldhouse.
Podcast episode
Kansas basketball coach Bill Self had plenty to discuss following Saturday's win over Texas at Allen Fieldhouse. While another great game from Perry Ellis made the win possible, the Jayhawks had to play without starting big man Cliff Alexander, who could have an eligibility issue.
Podcast episode
Kansas basketball players Perry Ellis, Kelly Oubre Jr. and Frank Mason III discuss the Jayhawks' home victory over Texas on Saturday.
KANSAS 69, TEXAS 64
Ellis, who hit nine of 21 shots and 10 of 12 free throws, actually hit the game-winning basket with 5:31 left, a bucket that busted a 56-56 tie against a (17-12, 6-10) Texas team that blocked a school-record 14 shots. It's the most rejections KU has suffered in a game since stats were officially compiled at KU in 1988-89.
"We rode Perry as hard as we've ever ridden him," Self said of Ellis, who has scored 20 or more points in the last three games, 19 the game before that. "Perry has kind of carried us. Perry has goals. He's got dreams, but I think for the first time since he's been here he's actually playing at a level we all see him playing at. That's being ultra aggressive. When he's ultra aggressive he's as fast as anybody, as bouncy as anybody and can score with anybody," Self added.
Ellis was so dominant UT coach Rick Barnes referred to him as a senior in his post-game media session.
"If he keeps playing well he will be a senior, which is fine. It's what you want. You want guys to play well so they can put themselves in good position (to decide whether to enter NBA Draft)," Self said. "Even though he's a junior eligibility-wise, you keep playing like that ... there's not a lot of people playing better than him right now."
Ellis, who was four points off the career high 32 he scored against TCU his soph season, acknowledges this might have been his best game as a Jayhawk.
"I would say it's one of my most aggressive games I played," Ellis said. "I was aggressive the whole time out there. It was a great feeling, going out there and attacking no matter if I miss a shot, get a shot blocked, just keep going."
He said he's been praying a lot lately and actually visualizing his movements on the court before they happened.
"I'm taking it upon myself, believing in myself. The main thing is just believing I can do it and I'm doing it," Ellis said.
He's also showing more emotion on the court and off the court.
Ellis and Wayne Selden Jr. were the two players who organized a team meeting in Jayhawker Towers on Tuesday, a day after the Jayhawks' loss to Kansas State in Manhattan.
"The key thing we were talking about was what we can do better," Ellis said. "We all agree we can give more effort. That was the key focus of things and not be the team to let everybody down (by not winning league)."
KU (23-6, 12-4) has a chance to wrap up at least a share of the league crown with a win over West Virginia on Tuesday (8 p.m., Allen). Oklahoma, which is one game back, plays at Iowa State (two back with West Virginia and Baylor) on Monday. If Iowa State wins, KU could wrap up an undisputed conference crown with a victory Tuesday.
KU's chances of winning the league looked like they might take a huge hit Saturday. The Jayhawks led 66-64, as Texas inbounded with 12.4 seconds left with a chance to go for the tie or win.
Isaiah Taylor (17 points, eight assists) stumbled past Frank Mason III and missed a high-arching shot that was closely contested by Jamari Traylor. Kelly Oubre, Jr. rebounded and was fouled at 6.1 seconds. His two free throws iced the game. Oubre finished with 15 points and nine boards, while Mason had 12 points and three assists.
"It was a fantastic win," Self said of a victory attained with Cliff Alexander watching from the bench. He's out an undetermined amount of the time as the NCAA looks into an undisclosed issue involving the Chicago freshman, which could impact his eligibility.
"We played tough. For the most part we carried out scouting report. We played through Perry. When you don't make shots from the perimeter against a team like that (KU hit one of eight threes to UT's six of 20), it's hard to score inside. I thought our guys played very well and very tough," Self added.
---
More news and notes from Kansas vs. Texas
---
More like this story on KUsports.com