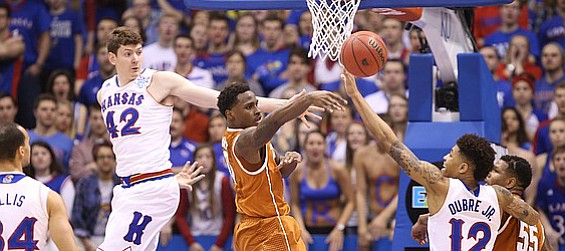 Texas coach Rick Barnes was in no mood to complain about the officiating following Saturday's 69-64 loss to No. 8 Kansas at Allen Fieldhouse.
But the veteran Longhorns leader did not mind mentioning a couple of instances that he thought were key to the outcome of the game. And he did so with an assist from ESPN broadcaster Jay Bilas, who offered his point of view on sophomore guard Isaiah Taylor's drive to the rim with the Longhorns down two and under 10 seconds remaining.
"I wanted to know if that was a (foul) because from where I was sitting I thought it was," said Barnes of Taylor's strong take that missed and failed to draw a whistle. "Jay Bilas walked right up to me and said, 'Rick, he got fouled.' I don't know what you guys saw who were sitting right there. I haven't seen it. I'm just quoting Jay Bilas."
Photo Gallery
Kansas basketball v. Texas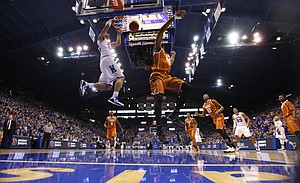 Images from Saturday's game between the Jayhawks and Longhorns at Allen Fieldhouse.
Podcast episode
Kansas basketball coach Bill Self had plenty to discuss following Saturday's win over Texas at Allen Fieldhouse. While another great game from Perry Ellis made the win possible, the Jayhawks had to play without starting big man Cliff Alexander, who could have an eligibility issue.
Podcast episode
Kansas basketball players Perry Ellis, Kelly Oubre Jr. and Frank Mason III discuss the Jayhawks' home victory over Texas on Saturday.
KANSAS 69, TEXAS 64
On the play, Taylor, who led Texas with 17 points, eight assists and six rebounds, drove into the heart of KU's defense from the left wing, soared toward the rim, absorbed some contact and threw up a wild shot. The shot missed, Taylor wound up on his back in the corner by the Texas bench and Kansas knocked in a couple of free throws to ice the game.
That final play by Taylor was indicative of the kind of effort he put forth throughout the day. But the Jayhawks (23-6 overall, 12-4 Big 12) found a way to stop him when it mattered most.
"I thought Isaiah Taylor played one great game," said KU coach Bill Self. "And he could get anywhere he wanted to get."
Added Barnes: "I kept telling Isaiah, 'You can get down the lane if you want to get down the lane.' You still have to make some plays and make shots."
Although Taylor's stat line surely looked good to anyone who saw it, the Longhorns (17-12, 6-10) did not quite share Self's positive outlook after the game.
"Our guys played hard, put themselves in a great position and had a chance to tie the game," Barnes said. "When you're fighting as hard as we did, you do feel like everything goes against you."
One of the biggest things that went against the Longhorns was KU junior Perry Ellis, who led all scorers with 28 points and added 13 rebounds. Ten of Ellis' points came from the free throw line, a product of both his aggressive play and a few bounces going KU's way.
"You gotta give him credit for coming up with (those)," Barnes said. "I think one of them bounced off the backboard. Those things happen."
Asked what he's seen from Ellis during the past few games that have helped him top 20 points in three consecutive games, Barnes spoke to Ellis' experience.
"Just his tempo on offense," he said. "I think he's really simplified a lot of things. The fact that he's been around and played a lot of games, you have to be impressed with the way he has improved. And being in a lot of big games and playing big minutes, you'd expect that from him." 
---
More news and notes from Kansas vs. Texas
---
More like this story on KUsports.com