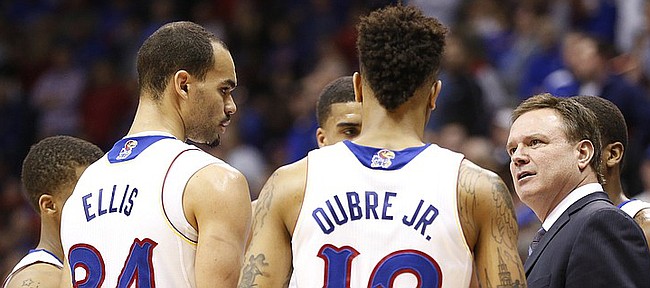 By this point of a college basketball season, all the secrets have been exposed, every player's pet move identified, studied, taken away.
Only the most talented, most aggressive, most creative players stand out against intense defenses built to drive them to a state of frustration.
For Kansas University, its anticipated depth an illusion, that means that to a large extent it will go as far as Perry Ellis, Frank Mason III and Kelly Oubre Jr. can take them. One junior, one sophomore, one freshman, three basketball players who led with their chins Saturday.
Photo Gallery
Kansas basketball v. Texas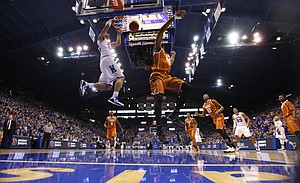 Images from Saturday's game between the Jayhawks and Longhorns at Allen Fieldhouse.
Podcast episode
Kansas basketball coach Bill Self had plenty to discuss following Saturday's win over Texas at Allen Fieldhouse. While another great game from Perry Ellis made the win possible, the Jayhawks had to play without starting big man Cliff Alexander, who could have an eligibility issue.
Podcast episode
Kansas basketball players Perry Ellis, Kelly Oubre Jr. and Frank Mason III discuss the Jayhawks' home victory over Texas on Saturday.
KANSAS 69, TEXAS 64
The trio took the Jayhawks a little bit closer to an 11th consecutive Big 12 title by defeating Texas, 69-64, in a rugby scrum of a basketball game played in an especially loud Allen Fieldhouse.
"The toughest team wins it each night (in Big 12 games)," said Oubre, who delivered 15 points, nine rebounds, three blocked shots and two steals. "There are so many good teams in this league, even the teams whose record doesn't show that they're one of the best."
Such as Texas (17-12 overall, 6-10 in the Big 12).
"Texas is a great team. No knock against them, they're one of the biggest teams in the league and they showed that tonight with their blocked shots, their length," Oubre said. "I feel like if they were to go to any other conference, they'd be great."
Texas blocked 14 shots, which didn't make the Jayhawks run away and hide. Losing Cliff Alexander for who knows how long because the freshman from Chicago did something to raise NCAA eyebrows served as one more reminder that if Kansas is going to win games, it will have to do so with the junkyard mentality it brought to the playground Saturday.
Myles Turner blocked five shots, Prince Ibeh four. Like Joe Frazier taking shots to the jaw, the chin, the nose, both eyes, Kansas kept plowing forward as its shots were swatted all over the place. The Jayhawks realized that basketball is more a prize fight than a beauty pageant.
"We had to keep attacking," Oubre said. "We had to go at their chest. We got a lot of them in foul trouble early. That was definitely the game plan because they have Jonathan Holmes, who's 6-8 at the three position. We needed to go at his chest because he had a good game down in Austin."
Kansas shot just 40 percent from inside the arc and made just 1 of 8 from beyond it, leaving only one place at which to win the game, the free-throw line. The Jayhawks made 26 of 32 (.813).
Ellis, Mason and Oubre all responded properly to losing a starter by trying to play bigger. They scored all but 14 of KU's points.
"Perry stepped up big tonight and I kind of tried to step it up on the glass because we lost a big body tonight," Oubre said.
Alexander watched the game from a seat on the bench. The players found out somewhere Saturday around mid-day, at the team shoot-around, that Alexander would not play, Oubre said.
"I looked in his face," Oubre said. "He wanted to play so bad. He wanted to be out there so bad to prove himself. It was tough for me to look at because I know if I were in his shoes, I'd be itching at the knees, just wanting to get in the game."
Even when Alexander has been in the game this season, it's been difficult to tell that at times. He has had flashes and has superior athletic ability to all those playing in his place, but his basketball skill and savvy haven't wowed anybody. Still, Kansas has more potential with him than without him.
Not having him Saturday didn't hurt Kansas. But not getting him back, if that ends up being the case, can't help. Even with Alexander, Ellis lacks much help up front.
---
More news and notes from Kansas vs. Texas
---
More like this story on KUsports.com