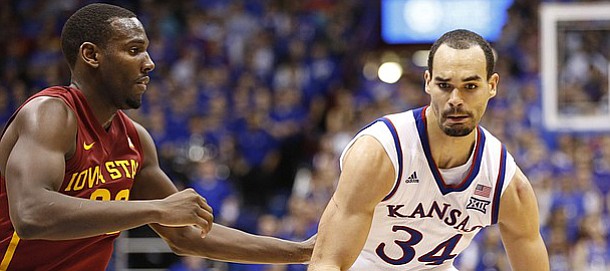 Kansas University junior forward Perry Ellis has been on a tear lately, becoming the go-to guy for the KU offense and putting up big numbers while shooting a terrific percentage.
On the court, however, is not the only place that Ellis has been locked in.
Wednesday morning the Big 12 Conference announced that Ellis and KU senior Christian Garrett, a walk-on, both had been named to the academic all-Big 12 first team.
Kansas leads the Big 12 with 52 all-time academic all-Big 12 honorees (39 first-team, 13 second-team) since the inception of the conference in 1996-97. Texas is second with 48. Current KU coach Bill Self has placed 29 players on the Academic All-Big 12 during his time in charge of the program.
Ellis has earned academic all-Big 12 honors during each of his three seasons with the Jayhawks. He was named to the academic all-Big 12 rookie team in 2013 and earned second-team honors last season. In addition, the Wichita native has been a member of the athletic directors and Big 12 Commissioner honor rolls four times during his KU career.
Garrett's inclusion on this year's academic all-Big 12 marks the first time in his career that the Los Angeles guard has been honored by the conference. Like Ellis, Garrett also has been on the athletic directors and Big 12 Commissioner honor rolls every semester he has been at Kansas.
In order to land a spot on the first team, athletes must have maintained a 3.20 or better GPA, with the second-team selections holding GPAs in the 3.00-3.19 range.
To qualify, student-athletes must maintain a 3.00 GPA or higher either cumulative or the two previous semesters and must have participated in 60 percent of their team's scheduled contests. Senior student-athletes who have participated for a minimum of two years and meet all the criteria except percent of participation are also eligible.
More like this story on KUsports.com