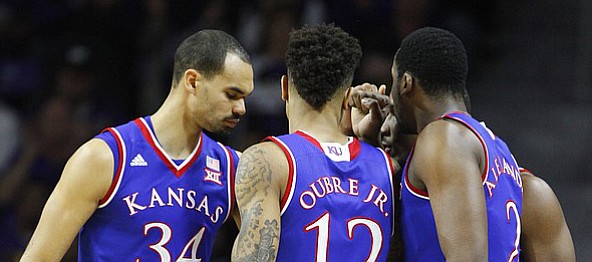 The tendency when it comes to basketball, more than most sports it seems, is to search for psychological reasons for a player's slump, an underdog's upset, even a team leading a race and falling back to the pack.
Sometimes the answer does not dance in the mysterious realm of intangibles. Sometimes it's standing right there in the center of the room.
Has it ever occurred to anybody that maybe, just maybe, this Kansas University basketball team doesn't have enough talent to win the Big 12 title?
By that I don't mean talented potential. I mean players good enough to compete well in the Big 12 right now.
KU doesn't have a defender equipped to keep quick point guards, of which there are so many in the Big 12, from getting to the paint. And those quick guards don't hesitate heading there because unlike in most years, a shot-blocker isn't standing there waiting for them.
Even a non-shot blocker in the mold of Sasha Kaun, leaning on guys, defending them before they catch the ball, would change this team in such a big way. Kansas doesn't have that player and Cliff Alexander doesn't appear nearly developed enough to become that guy any time soon.
Might a lineup with Perry Ellis at center, Frank Mason at point and wings Brannen Greene, Kelly Oubre and Wayne Selden be the the way to go against some lineups? The mere fact that I can ask that question without in any way joking shows how much KU lacks at the post position opposite Ellis, even more so offensively than defensively.
Alexander, Landen Lucas and Jamari Traylor all have had moments that contributed to victories, but they all have limitations. In Monday night's 70-63 loss to Kansas State, that trio played a combined 42 minutes and totaled three points, four rebounds, no assists, one turnover, no blocked shots and seven personal fouls. In other words, the same number of fouls as points, rebounds and assists combined.
A point guard, three wings and Ellis would pack a better scoring punch, maybe even rebound better, but it also presents opponents with an obvious strategy: Pound it inside and draw the Jayhawks into serious foul trouble.
No easy answers present themselves for a Kansas team that doesn't have as much starting-five talent as Oklahoma and doesn't quite measure up to Iowa State's depth and experience.
One game ahead of Oklahoma and West Virginia and a half-game ahead of Iowa State, KU has a tough road ahead because those are the only roads in the every-bit-as-powerful-as-advertised Big 12.
More like this story on KUsports.com