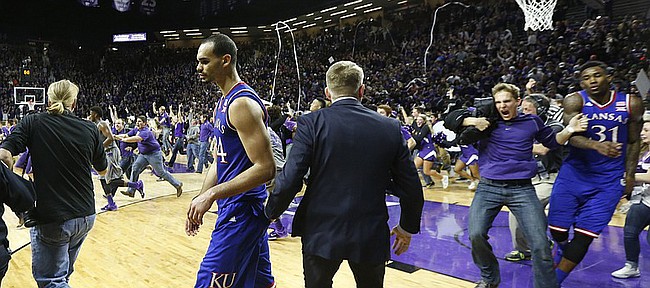 The Big 12 Conference, both Kansas University and Kansas State University, as well as the K-State Police Department all have spent the early part of Tuesday reviewing the court-storming scene that turned wild following the K-State men's basketball team's 70-63 upset victory over No. 8 Kansas Monday night at Bramlage Coliseum.
Early Tuesday morning, K-State athletic director John Currie released the following statement about the incident:
"On behalf of President Schulz and K-State Athletics, I apologize to Athletics Director Sheahon Zenger, Coach Bill Self and the KU basketball team for the unfortunate situation in which they were placed last night at the conclusion of our basketball game.

"Our security staff, which in similar past postgame celebrations has, according to our procedures and rehearsals, provided a solid human barrier to allow the teams to conduct a postgame handshake and safely leave the court, was unable to get into proper position quickly enough last night and was overwhelmed by the fans rushing the floor.

"K-State prides itself on providing a great game atmosphere in a safe environment and did successfully execute our security plan when we defeated KU last year in Bramlage as well as in 2011. Although no one was hurt last night, we fell short of our expectations for securing the court and escorting KU to its locker room without incident. We are disappointed that we did not do better for the KU team.

"We are reviewing our procedures internally and consulting with our law enforcement partners to determine any steps necessary to improve our gameday security.

"Additionally, we are actively reviewing video and working in concert with law enforcement to identify any fan who intentionally touched visiting players or personnel. We will take appropriate action with such identified persons, including turning over all evidence to law enforcement so that any applicable charges can be filed.

"Early this morning I met with Student Governing Association President Reagan Kays and Vice-President for Student Life Pat Bosco who are supportive of these steps. While we are proud of the incredible atmosphere of Bramlage Coliseum and the passion of K-State students and fans, we are saddened by the insistence of some fans to sully the image of our great institution with audible profane chants. We will continue to work with our student leadership to provide a better example of sportsmanship for our audiences.

"Congratulations are still in order for our coaches and student-athletes for their tremendous effort last night, and we look forward to Saturday's home finale against Iowa State."
A short while later, the Big 12 Conference also released a statement that explained it was reviewing the actions of all of those involved.
"The Big 12 Conference office and the two schools are reviewing the postgame celebration that occurred at the conclusion of last night's Kansas at Kansas State game. In accordance with Conference policy, home team game management is responsible for the implementation of protocols to provide for the safety of all game participants, officials and fans."
The incident, which included K-State fans bumping into KU players and coaches, KU assistant Kurtis Townsend forcefully restraining a KSU fan from taunting KU players and general chaos and pandemonium, has become a hot topic nationally, as several media outlets have made this latest incident of college-celebrations-gone-wild the focal point for renewed debate on whether there is a place for such scenes in college athletics.
Asked today about KU assistant Townsend's involvement in restraining the KSU fan, KU associate AD Jim Marchiony told the Journal-World: "Kurtis was appropriately attempting to protect KU players from a fan who appeared to be approaching several of our players.
"The safety of our players was our No. 1 concern last night. And one fan had already deliberately body checked Jamari Traylor."
Marchiony added of the overall incident: "Kudos to our players for keeping their cool."
In addition, K-State police are looking for the public's help in identifying the fan who slammed into Jamari Traylor shortly after the storming began.
More like this story on KUsports.com