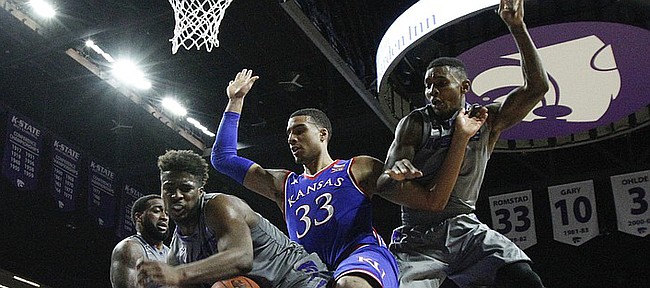 Manhattan — The only thing that came close to slowing down Kansas State sophomore Nigel Johnson during a 70-63, Big Monday victory over No. 8 Kansas at Bramlage Coliseum was a temporary injury that left him limping on the KSU bench during the second half.
And even that came after a bucket.
Johnson, who entered Monday's Sunflower Showdown having made just one field goal in his last three games, connected on eight of 11 shots against the Jayhawks, including four of five from three-point range, en route to a career-high 20 points that helped set off another court-storming in Manhattan.
Photo Gallery
Kansas basketball v. Kansas State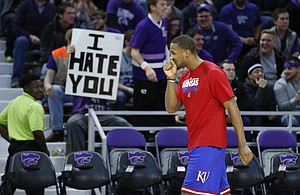 Images from Monday night's game between the Jayhawks and Wildcats at Bramlage Coliseum.
Podcast episode
Kansas University basketball coach Bill Self discusses the Sunflower Showdown & K-State's court-storming following Monday's 70-63 loss in Manhattan.
Podcast episode
Perry Ellis & Kelly Oubre shed light on what went wrong vs. K-State.
K-STATE 70, KANSAS 63
"Nigel was huge," said KSU coach Bruce Weber. "He was so bad against Baylor and so good tonight. You're happy for him."
It was not just the fact that the 6-foot-1, 180-pound Johnson found a way to score that was so key for K-State. It also was his timing. Several of his buckets, which came in 28 minutes, went through the net with the shot clock winding down, including one deep three right in front of the Kansas bench in which he slipped after the make and momentarily stayed on the floor tangled up with some feet on the Kansas bench.
Rather than staying down and whining about foul play, Johnson jumped back up, hustled down the floor and did it all with a smile on his face.
"Nigel came off our bench and made some big plays and we put the pressure on them," said Weber, alluding to Johnson's consistent ability to get by KU guard Frank Mason III with the dribble. "And that's what we talked about; you gotta keep coming at them (because) they're so good and they're so well coached."
The Wildcats, who shot 56 percent from the floor in the second half, benefited from winning a ton of hustle plays. Whether those came in the first half and helped keep KSU in the game despite struggling offensively or during the decisive second half, K-State (14-15 overall, 7-9 Big 12) scrapped for what turned out to be its second consecutive home victory over Kansas (22-6, 11-4) for the first time since the Wildcats won three straight from 1981-83.
"I showed them last year," said Weber said of an 85-82 overtime victory over KU last February. "And said, 'It's a special memory, why not make another one?' And they did."
The huge win momentarily righted a K-State ship that had gone careening off course during the past few weeks. The Wildcats entered Monday having lost seven of their last eight games but left their home floor with their seventh victory in the last 10 tries over top -10 opponents at Bramlage.
"We guarded and we fought, and that was the big thing," Weber said. "It's a huge win. You can't dwell in the past. All you can worry about is tonight, and that's what we did."
---
More news and notes from Kansas at K-State
---
More like this story on KUsports.com